Aminé cares about more than 'Caroline'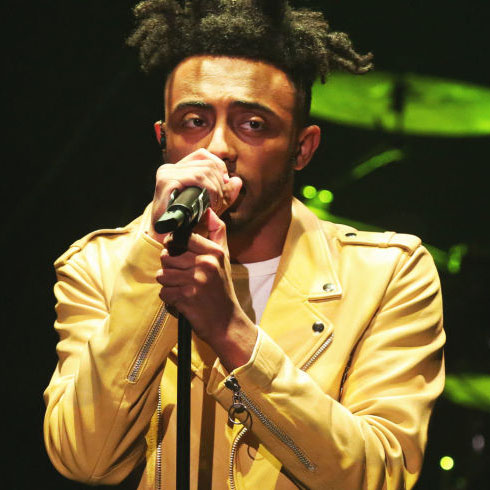 Kenny St. Thomas, Oracle Staff Writer
February 7, 2017
Hang on for a minute...we're trying to find some more stories you might like.
Aminé is proving that he is more than just a one hit wonder. "Caroline" was the song of the summer. The hype-squad blasted it through their speakers at the football games, it was always on the radio, and it was even played at homecoming.
"Everyone knows that song, even my little cousin listens to it," said senior Justin Tall.
Aminé is a 22-year-old rapper/singer from Portland, Oregon. His song "Caroline" peaked at number 12 on the Billboard Hot 100 charts.
"I'm not good at singing man, that was all auto tune," said Animé, who sings the chorus in "Caroline," when he was being interviewed by Genius.
But that didn't stop him from performing a un-auto tuned version on the Tonight Show with Jimmy Fallon.
On November 15th, the rapper took the stage and sent a strong politically charged message that went viral on Twitter.
Instead of finishing the song with the original lyrics, he remixed the song and talked about the story "9/11, a day that we're never forgetting 11/9, a day that we're all regretting."
September 11, is remembered for the attack on the Twin Towers in 2001. The second week of November , a few days before Anime's performance, was Election Day. This was one of the most controversial elections in America in a long time. Donald Trump was elected president, which upset many people because of many racist and sexist comments that he made during his campaign and for some of his views.
The week after the election, there was a lot of riots and upset people who voiced their opinions on Twitter. Most people, especially minorities and young people, were the most upset about the election because Trump is very racist.
Animé, being a young black rapper, took advantage of his fame and popularity by spreading his political views on Trump on the Tonight Show with Jimmy Fallon.
"If my president is Trump then it's relevant enough to talk about it on TV and not give a (gasp)," said Anime in his rap.
"Trump is very blunt about his beliefs and he has been this way for a long time. I think that Animé is showing how we have the right to be blunt about our opinions on Trump because he is so blunt about everything," said senior Alice Hammel.
Whether you agree with what Animé said or not, he took a stand for what he believed in, which can inspire other people to stand up for their beliefs too.