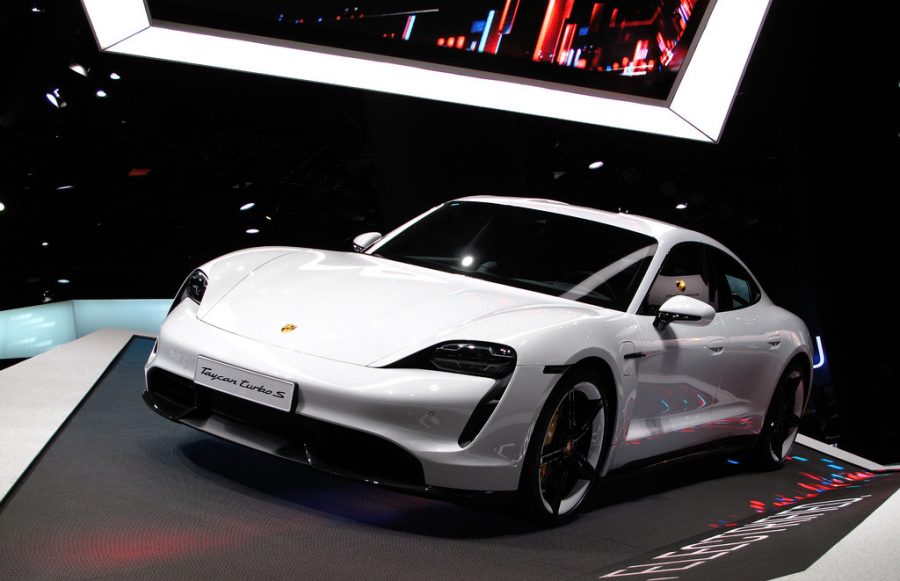 Courtesy of Creative Commons under Wikimedia Commons
Since the start of 2012, Elon Musk and Tesla Inc. began the widespread craze of electric cars in today's modern world. Initially developing the Tesla Roadster in 2008, the company began the worldwide boom and popularity of electric cars with their entry level sedan, the Model S, and Model X SUV in 2012. Nowadays, widely praised for their positive economic footprint and affordable prices, electric cars have become the new model for the future of technological advancements.
In response to the major success of brands like Tesla and other early electric cars, more companies are starting to release their own electric cars. General Motors and Porsche stand out as they work on creating their own version of the electric car.
Announced in early February during the Super Bowl weekend, General Motors released a sneak peek at their newest electric car. "The Quiet Revolution" or the new Hummer, is planned for sale in 2022. Nicknamed the "Gas-Guzzler" the original Hummer's near four-dollar per gallon rate didn't impress the world. The car's production died in 2010 along with the public's opinion towards General Motors and their environmental impact.
Porsche also revealed a new series named "Taycan" that consists of a total of three different cars. Porsche's new lineup isn't all that new however, as the German automaker first teased the development of the Taycan called "Mission E'' back in 2015. The electric lineup consists of the Taycan 4S, Taycan Turbo, and the Taycan Turbo S. All three models have the same four-door exterior, contrary to Porsche's usual two-door approach in respect to their sport cars. The Taycan lineup is no joke in the electric competition however, with the Turbo S boasting a 0-60 of only 2.6 seconds, and 750 hp in Active Launch Control. The Turbo S also has two electric motors, one powering each axle of the car, and a two-speed gearbox to improve performance in the rear motor. All three models consist of an 800-volt charging system, all-wheel drive, and average 420 KM range across the lineup. The Turbo S starts at around $186,000, the Turbo at $153,000, and the entry-level Taycan 4s at just over $100,000. 
 With the increase of electric vehicles in today's world, it is refreshing to see different companies coming with new ways to help reduce their carbon footprint. While the Hummer continues to remain a mystery, the introduction of the Porsche Taycan series is definitely a positive impact on the world today.