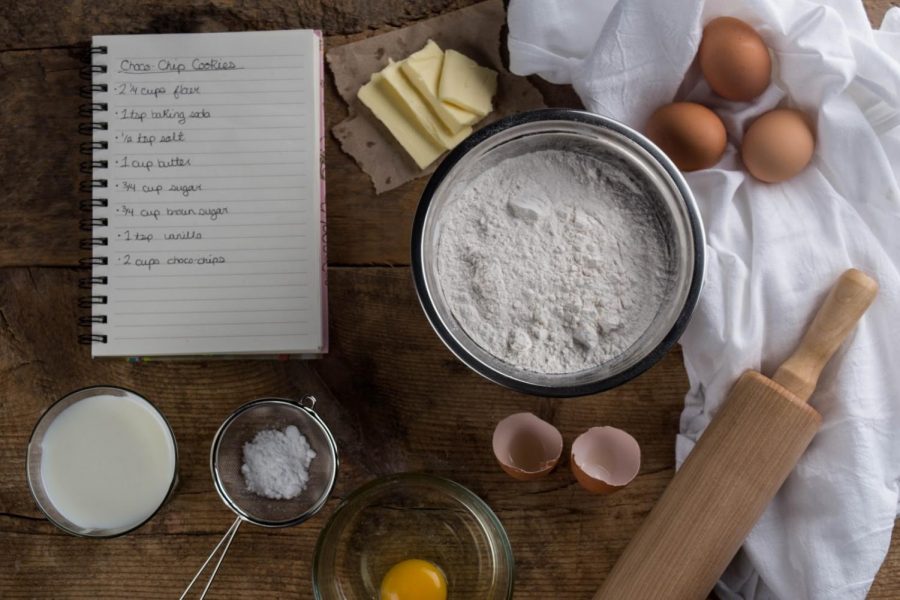 Courtesy of Nicole Garcia via Flickr under Creative Commons License
Now that we are confined to our houses, we have a lot of spare time on our hands. People have been picking up new hobbies and trying new things. Many people have been baking and cooking to keep themselves busy. Baking can take your mind off of everything that is going on. There is something therapeutic about getting lost in a recipe and then getting a tasty reward for your hard work. These desserts are great comfort foods that contain pantry-based ingredients. Our families personally loved these treats and they quickly became a household favorite that everyone loves baking. Here are three easy recipes that you should try in your new spare time.
Snickerdoodle Cookies 
Makes about 24 cookies
1 cup butter
1 ½ cup sugar
2 eggs
1/2 teaspoon vanilla
2 ¾ cups flour
2 teaspoons cream of tartar
1 teaspoon baking soda
¼ teaspoon salt
Cinnamon sugar: start out with 1 tablespoon of cinnamon and 4 tablespoons of sugar (it should be a 1:4 ratio of cinnamon to sugar)
Preheat oven to 350°F
Mix butter, sugar, eggs, and vanilla thoroughly in a large bowl.
Combine flour, cream of tartar, baking soda, and salt in a separate bowl.
Add flour mixture to butter mixture in small portions until completely combined.
For best results chill dough for about 30 minutes to an hour (this step is not needed, but encouraged).
Make sure the cinnamon sugar mixture is a 1:4 ratio.
Use an ice cream scoop or large spoon to scoop out about an egg-sized scoop of dough and roll the ball of dough through the cinnamon sugar mixture.
Place on a parchment paper lined baking sheet and place in the oven for about 12-15 minutes.
Remove from the baking sheet. Let cookies cool completely.
Snickerdoodle cookies are a classic that everybody enjoys. This is one of my personal favorite recipes that is easy and fairly quick to make. Try keeping a stash of dough in the fridge, so you have the ability to make fresh cookies whenever you have a sweet tooth. This mouthwatering recipe is something that you will want to keep making.
Cookie Brownie Recipe
Serves about 15 people
Brownie:
1/4 cup unsalted butter
3 ounces bittersweet chocolate
3/4 cup granulated sugar
1 large egg
1/2 teaspoon vanilla extract
1/2 teaspoon salt
2 tablespoon unsweetened cocoa powder
5 tablespoon all-purpose flour
1/2 cup peanut butter (optional)
Melt butter and chocolate together until it's completely melted and smooth.
Whisk in the sugar, followed by egg and vanilla. After mixing in, whisk in the cocoa powder and salt.
Gently fold in all the flour until it's combined.
Cookie:
1 stick butter at room temperature
1/2 cup white sugar
1/4 cup brown sugar
1 egg
1/2 teaspoon vanilla
1 cup + 2 tablespoons flour
1/2 teaspoon baking soda
1/2 teaspoon salt
1 cup chocolate chips
In a large bowl, cream butter and sugars then mix in egg and vanilla.
Add baking soda, baking powder, salt and flour, mixing well until all the ingredients are well combined.
Finally, add chocolate chips and mix until they are evenly distributed in the batter.
Together:
Preheat oven to 350°F degrees
Grease sides of a baking pan (8×8 inch) and line it with parchment paper
Pour brownie batter into the prepared pan, spreading out evenly.
Top off with large spoonfuls of cookie dough and peanut butter and press them down into the brownie batter.
Bake for 25-30 minutes.
Let it cool in the pan before slicing and enjoy!
If you have a sweet tooth, you'll love this coalition of deserts. This cookie-brownie combines two favorite classics into one delicious treat. You no longer have to choose between a brownie or a cookie because with this, you can have both. This recipe is adapted from the cookie-brownie recipe from the blog Once Upon a Chef with the addition of peanut butter, adding a sweet-salty balance. This chocolaty, chewy combination of treats is easy to make and is a great family activity.
Coffee Cake
Serves up to 16 people
1 cup oil
2 eggs beaten
1 teaspoon vanilla
1 cup milk
1 cup sugar
3 cups flour
3 teaspoons baking powder
1/2 teaspoon salt
1 1/2 cups brown sugar
2 teaspoons cinnamon
1/2 cup butter or margarine melted
3/4 cup walnuts (optional)
Cake batter:
Preheat the oven to 350 degrees
Lightly grease a pan (9×13 inches) and set it aside
In a mixing bowl combine oil, eggs, vanilla and milk together.
In another bowl, mix together sugar, flour, baking powder and salt.
Then combine egg mixture with flour mixture.
Stir in walnuts.
Streusel:
Combine the brown sugar and cinnamon.
Pour half the cake batter into the greased baking pan.
Sprinkle half of the streusel on top of the batter.
Then pour in the rest of the batter and then sprinkle the remaining streusel on top.
Drizzle with melted butter.
Bake, uncovered at 350 for 25-30 minutes.
Let it cool for about 15 minutes and enjoy!
This old fashioned cinnamon swirl coffee cake is perfect sweet to have with your breakfast. It is adapted from the blog Lil' Luna's coffee cake recipe with the addition of the crunchy walnuts. It's a soft and buttery cake that is uncomplicated to prepare, and pairs perfectly with a cup of coffee or tea. This recipe is definitely not on the healthier side of things to eat, but if you're looking for a delicious dessert, this is undeniably a great option.