When is winter's wonderland?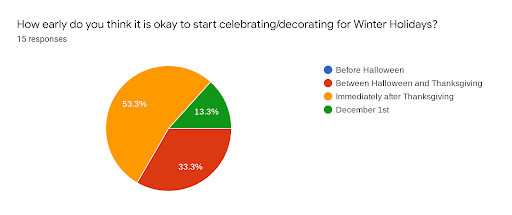 Every year is the same—spooky season ends, and we are stuck in that familiar holiday intersection where the lines between fall and winter become blurred, begging the age-old question of when it is acceptable to start celebrating the arguably "most wonderful time of the year."
Odds are, almost everyone can name the one person in his or her family that follows a strict holiday protocol, ensuring every tradition is accomplished before the season ends, including how and when they are celebrated.
"You can't start Christmas until after Thanksgiving," said senior Gina Perrella, "respect the order of the holidays. Turkeys need rights too."
Everybody has their holiday politics, whether a hardcore traditionalist or just along for the ride. The more conservative views might be set on breaking out the lights and decorations on December 1st or the day after Thanksgiving, but everybody has their reason for the season.
"I still like to celebrate fall to the max [turkey, leaves, spice scents, etc.] before completely changing it for the holidays," said junior Kaitlyn Ha. "I feel that once it's the holidays, I'm completely committed to it, and I'm submerged in the spirit."
While some like to keep their holidays in separate spheres, others know no bounds after Halloween has passed. The lights are up, the sweets are baked, and the carols are on full blast in sixty degree weather.
"My family loves Christmas and decorating, so the quicker the season can start, the better," said sophomore Kendyl Pugh.
Some stay off the winter bite for the sake of holidays' equity of celebration across months, while others cannot resist flaunting those ugly sweaters a little ahead of schedule. It is generally accepted, though, that the winter holidays are the finale of the holiday season. Whether you end up decorating early or not, most people are secretly preparing for them behind the scenes, stashing their shopping finds behind closed doors in advance to avoid a grab-and-go gift time crunch.
Regardless of when people celebrate, most can agree that this time of year is one full of love and joy. People come together in a unique way that makes the world feel almost magical.
"My family always hosts a really big Hanukkah party for family and friends [except this year due to Covid]. My dad and grandpa usually spend the entire day making a ton of latkes [potato pancakes] because that's always the main dish," said senior Carolin Vorona. "However, since my mother is German, we like to put a spin on it and eat the latkes with lachs [smoked salmon] because that's a more German tradition."
Traditions bind people together whether family, friend, or stranger. People decorate, bake, and even fight over their love of the holidays, but whatever they do, whenever they do it, they always do it together.