Amazon tyranny: a future monopoly in the making?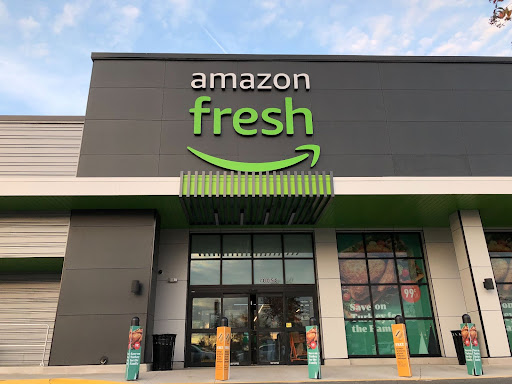 Amazon, the ubiquitous e-commerce company, has sunken its claws into virtually every corner of the marketplace and, thus, every part of American lives. Every-day consumers may wonder if the gargantuan wingspan of this business behemoth counts as a monopoly.
Jeff Bezos created Amazon out of his own garage in the summer of 1994. At first, the company was simply an online bookseller. As of 2021, Amazon is valued at a whopping 1.7 trillion dollars, situated very comfortably among the other four of the famous Big Five information technology companies: Google, Apple, Facebook, and Microsoft.
Most consumers are familiar with Amazon and Amazon Prime as in the online shopping platform; however, Amazon's influence spans across much more than the online marketplace. Residents in Fairfax County may have noticed the recent opening of the Amazon Fresh grocery store in Kingstowne. It may be unbeknownst that Amazon owns a great deal of services consumers use every day. 
Not only does Amazon provide its own popular services such as Amazon Prime, Amazon Fresh, Amazon Go, Amazon Echo and Alexa, but Amazon also owns services such as Whole Foods, Zappos, Twitch, Ring, IMDb, and MGM, to name a few. Amazon is also the second largest employer in the United States behind Walmart with 1,298,000 global employees.
It doesn't end there: Amazon Web Services (AWS) is a subsidiary of Amazon that has its own share of humongous business ventures. AWS provides cloud computing services that support dozens of big-name clientele such as Netflix, Facebook, LinkedIn, ESPN, Adobe, and Twitter. AWS's most notable client, however, is the Central Intelligence Agency itself. In 2013, the CIA and AWS entered a 600 million dollar cloud-computing contract wherein the CIA entrusted AWS with creating and managing a private cloud solely for the CIA's data center. Essentially, AWS recreated their massive public cloud service only for use by the CIA, servicing all levels of data classification from unclassified to top secret.
Clearly, Amazon has its foot in the door of nearly every sphere of commerce, whether it be apparel, technology, cloud computing, toys, books, groceries, etc. The infamous Jeff Bezos is the living proof of Amazon's prolific success with a personal net worth of over 200 billion dollars, making him the richest person in the world for the past four years—although Elon Musk has recently usurped that global title.
So with a company so colossal that even the CIA seeks its services, is Amazon not a gnarly, greedy monopoly? Technically, no. Despite its overwhelming grasp of the marketplace (described eloquently by global trading platform/online broker, Forex.com: "if it can't dominate the market on its own, it'll just buy the market leader"), Amazon is not a monopoly. 
According to their website, the Federal Trade Commission (FTC) defines a monopoly as "a single firm that unreasonably restrains competition by creating or maintaining monopoly power." Courts generally place the threshold market share of a monopoly to be greater than 50 percent of the sales of a certain marketspace. 
As of October 2021, Amazon's e-commerce market share stands at a tremendous 41 percent. Although Amazon is creeping closer to that monopolistic threshold, the FTC looks beyond a company's sheer size when assessing monopolies and instead focuses on whether that company is stifling competition or taking advantage of consumers. 
Since Amazon provides a platform for other businesses to sell their products, and because it does not purposely raise prices—rather, the opposite: it tends to undercut others—Amazon can not be classified as a monopoly. While Amazon does not stifle competition or qualify as monopolistic, the average consumer may wonder, just how much bigger can Amazon get?
So far, Amazon passes GO—but  there is no telling how much longer this will last.