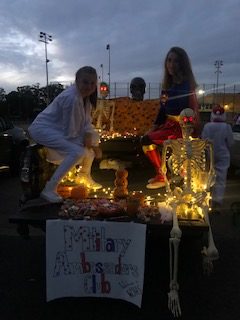 Amirah Sumrean
On Saturday, October 19th, the SGA put on their annual Trunk or Treat. Children from the community came dressed up in their costumes ready to get candy from the various WS clubs who ran the event.
This year's Trunk or Treat was held at the lower stadium entrance and was followed by Screen on the Green, where Scooby Doo was played on the field. Trunk or Treat is an event where different clubs at WS decorate and open up their car trunks as they pass out candy to kids from around the community who come to trick or treat.
This new tradition was put in place two years ago, and it has proven to be a success. Parents love it because it gives their children a chance to meet and interact with others. Kids love it because it gives them a little taste of Halloween before the real holiday. Trunk or Treat brought people in whether it was due to friends, family, or social media. The kids and their families in attendance seemed to enjoy this event and all that it had to offer.
Sherri Djonkam, like many others found out about Trunk or Treat through Facebook.
"[I came because] I live close by and I had three sons that went here," said Djonkam. "It's a community event!"
Due to Trunk or Treat being at the lower stadium this year, when the sun set, there were no lights to illuminate the event, and it was difficult for kids and parents to see where they were going. However, some clubs, like the Military Ambassadors Club, included lights as a part of the decorations in their trunk, which made them a very popular attraction.
"I think our trunk was popular among the kids because the lights and skeletons peaked their interest and made it easier to find once it got dark," said senior Julia Ricci.
All in all, this year's Trunk or Treat proved to be a success as the children who attended the event were clearly happy and excited. This tradition is loved by both WS students and the community alike and should be a tradition that is kept for many years to come.
"I feel great about my trunk or treat experience because I had a lot of fun seeing all the kids dressed up and getting excited about the costumes and candy," said Ricci.