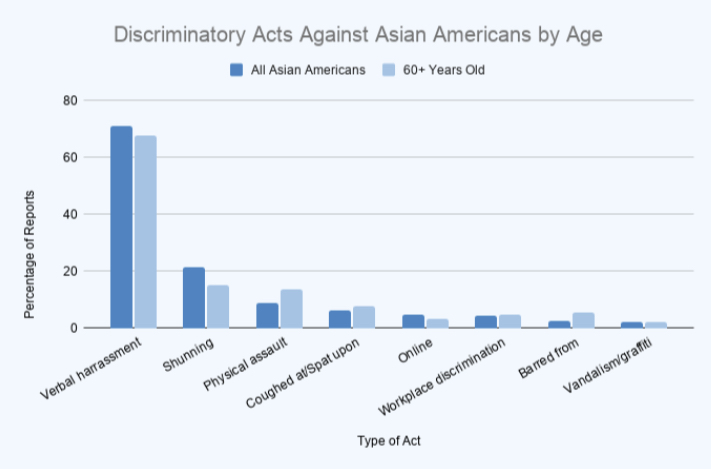 Wikimedia Commons
The AASA (Asian American Student Association) speaks out on the spike in hate crimes against Asian Americans and Pacific Islanders during the past year. Despite being a club that is strictly online, they've found ways for members to discuss the recent events together.
According to the Stop AAPI Hate National Report, a total of around 3,800 reports of anti-Asian attacks have come in since March of 2020, with 149 of these reports being from D.C, Maryland, and Virginia. 
"Asian Americans make up only 5.6% of [the] American population," says senior and President of the AASA, Zion Yamashita. "If anyone needs help being heard, it is the Asian community. Yet, it seems like everyone is silently watching these attacks."
To raise awareness on the matter, social media users decided to trend #StopAsianHate on platforms such as Tik Tok, Instagram, and Twitter. Celebrities such as BTS, Rihanna, Lebron James, Cardi B, Ariana Grande, and many more have used their social media to take a stand against the situation.
"Although not Asian themselves, I see many pushing for more awareness, supporting victims, and overall acting as an ally," said junior and officer of the AASA, Julie Readnour. "Whereas once issues regarding [A]sians have been largely hidden within the news, now it is finally gaining a little more traction."
The hashtag has tallied up a number of posts as influencers and non-influencers alike continue to share them. But some students, such as member of the AASA, junior Samirah Habib, believe that there's still a long way to go.
"I think that the amount of effort put into handling the situation is weak," Habib mentions. "I've seen people say that they don't feel like speaking up about the issue because they aren't Asian, but you don't need to be Asian to support and help the community."
The AASA came up with a few ideas to help bring light to the issue in our local community. Deciding to take the social media route, they utilize their Instagram to address the attacks.
"During the meeting hosted on April 14, the AASA included a segment in the meeting addressing the recent events and giving a list of resources to get help and find ways to support Asian Americans," Readnour states. "Furthermore there was an open discussion after the speech, where members were invited to speak their thoughts, opinions, or experiences regarding the increase in Asian American attacks or overall Asian discrimination and racism."
While the topic of anti-Asian racism has just recently brought attention, students such as Readnour describe what it was like growing up as an Asian-American.
"I would constantly bleach and dye my hair, I even bought colored contacts because I felt a little out of place," Readnour shared. "So overall, it wasn't a very good experience for me growing up, but of course it all had its ups and downs. Despite my hate in the past I have grown to love my heritage, and I am grateful to have a culture I can celebrate."
With hopes of others being able to educate themselves and understand the situation, students like Habib take a moment to grieve on the hate amid a pandemic.
"It's been very hard for them for so long and now with everyone blaming them for the pandemic and Asians getting hurt and killed [it] really breaks my heart," Habib adds.