It's the most wonderful time of the year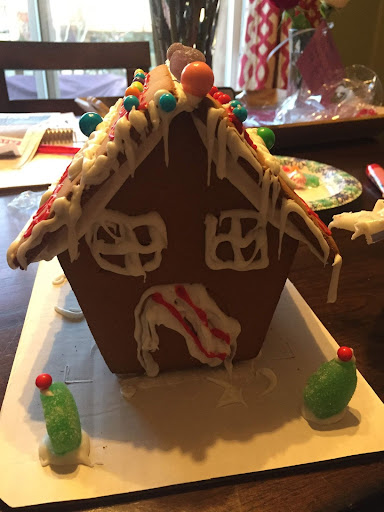 Tis' the season for snow and hot chocolate, fuzzy socks and warm hats, holidays and traditions. Students celebrate in countless ways, from decorating the Christmas tree, to saying Hebrew prayers, to preparing big feasts.
"My dad and I have the tradition of going Christmas gift shopping for my mom three days before Christmas," said senior Katie Swatek. "It started when I was about four years old and we do it every year. We normally storm Springfield Mall and Hallmark in a panic looking for a last minute gift. An iconic last minute gift is a Yankee Candle and a magnet with an inspirational quote. While it's more of a joke now, it doesn't feel like Christmas until we've done it."
Christmas is one of the more well-known and widely celebrated holidays around this time of year, but celebration styles for the day vary from family to family. Some cultures and religions even celebrate it after the new year, like Orthodox Christmas which is celebrated on January 7th.
"For starters, Ethiopian Christmas is on a different day and is celebrated with family and friends. You make traditional food, wear habesha kemis or yeket libs (traditional clothes), and play traditional games. You get pocket money from uncles and aunties, [but] with that being said, not everyone celebrates it the same way. It all depends on the household," said junior Amen Abebe.
Another major holiday during the winter season includes the Jewish holiday Hanukkah. This holiday, which has 16 different spellings, lasts for eight days and starts on a different day every year. 
"The reason why we light the menorah is because when the Maccabees (Jewish tribe) won over the Greeks, there was only enough oil to burn for one day in the temple and it ended up burning for eight days instead. That's why there are eight days of Hanukkah and eight candles to light (the middle one is the one you light to light the others candles [with]). You light the candles right to left burning one the first day, then two the second day, and so on," said senior Madelyn Kerr.
It's not just the time of the year for holidays and hot cocoa, it's time for cold nights and the blanket of white that gets school cancelled for the day (otherwise known as snow). It's only a matter of time before #closeFCPS resurfaces on the internet. The famous hashtag is most known on Twitter, where students tweet "#closeFCPS" to get it trending and let the FCPS school board know that a snow day is in order.
"I like snow, it's really pretty and it leads to winter activities like skiing and snowboarding," said Kerr.
Students took a poll on their favorite holiday song, and some top responses include "Underneath the Tree," by Kelly Clarkson, "White Christmas," by Micheal Bublé, "Last Christmas," by Wham!, and "The Chanukah Song," by the one and only Adam Sandler.
Music, traditions, and snow are just a few of the many things that bring families and friends together. The most wonderful time of the year is finally here.