Mahbereseb Club offers a safe space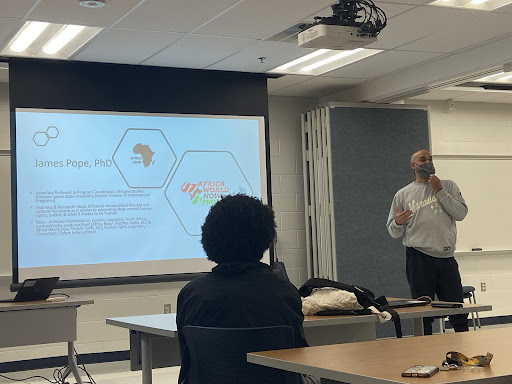 The Mahbereseb Club has made its way into WS, hoping to create a sense of home and a safe place for Black youth. The word Mahbereseb translates to "community" in Tigrinya, which is the dialect of Eritrea.
"During quarantine, I was allowed the time and space away from a [predominantly white institution]. So that way, I was able to become more in tune with my culture and my identity," said junior and club founder Nathan Soquar. "I didn't want that feeling to go away. That feeling of home surrounded by people who look like you is comforting because a lot of times, you aren't afforded that in [school]. So, I think it was just a matter of being able to become more in tune with myself and then opening that up to my predecessor." 
Once Soquar created the club, he decided to open up officer positions since the club calls for a tremendous workload. This provides the benefit of other opinions and perspectives when coming up with activities to share with the members of the club. For example, the club plans on opening the floor to former Howard and Georgetown University professors, but everything is still in the works.
"For our upcoming event we will be hosting our first Buna Roundtable. In many East-African cultures, a meal at a communal or familial gathering is typically followed by a special coffee called Buna. With this, people present tell reminiscent stories, discuss politics, and enjoy the aromatic smell of freshly roasted coffee beans in the air. Our main goal with this is to re-create that environment here in West Springfield. During our Buna Roundtable, we will have prompts, excerpts, and images which relate to various topics on the African Diaspora ranging from the physiological implications of white supremacy to intersectionality displayed on a projector," said Soquar. 
The club does not only look to assist young African Americans with self-discovery, but also strives to educate students on certain aspects of Black history that aren't taught elsewhere. 
"So the main goal is to explore the historical and cultural experiences of the African diaspora while providing people the space to do that. [Prior] to quarantine, I never had that sort of space, being at home with my older siblings, who kind of served as role models who had already established themselves as Black creatives and majors in Black history. They provided me with the knowledge that I was not being provided at home." 
Regarding the journey of self-discovery, Mahbereseb officer junior Ibrahim Mohammed sees it as ongoing. He believes that the environment that someone grows up in has an effect on the journey to self-discovery.
"So you might come to school, acting as the common student but in reality, you're at home, you're praying, you're doing other things, which kind of invite you and make you a part of a certain culture," said Mohammed. "But when expressing that anywhere else outside of school, it's kind of difficult because you think it's such an individualistic thing or a personal thing, just part of the family. There [are] so many different people outside of just your family that would love to celebrate, collaborate and just discuss with you."
The club welcomes anyone who would like to learn about the historical and cultural experiences of the African diaspora regardless of their ethnicity. 
"What we're trying to do here is more about learning and understanding. Each meeting we want people to walk away with more knowledge than they had when they first entered. So while those are safe spaces, here, we're trying to help people learn and understand themselves better and navigate the world they do," said Soquar.