The mysterious disappearance of Herr Noble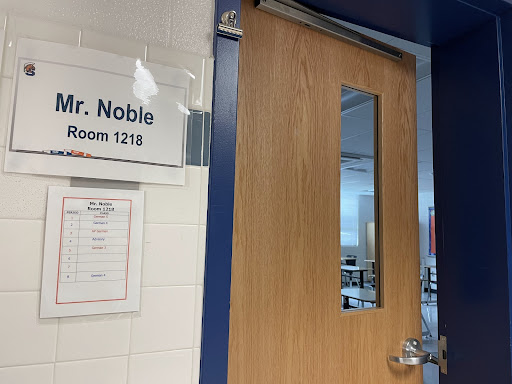 German teacher Daniel Noble has disappeared several times over the course of this school year, resulting in severe disruptions of learning. Several students are concerned about his whereabouts due to the repeated and extended absences.
"Well, I've got no idea [where he is]," said sophomore Christina Nies. "Nobody knows. Like, there's literally been no indication of what he's doing. If I did guess, maybe he's sick. But honestly, I'm not even sure because how do you get sick every two months for a week?"
Similarly, sophomore JP Hogan believes a timely reason for the absences could be the ongoing pandemic, as Noble was previously sick with COVID-19. He thinks Noble also could have taken leave for family matters, such as a vacation or a family emergency.
When prompted, Hogan also discussed how Noble's disappearances have negatively impacted his class's ability to learn, which other students cited as well.
"Yeah, it's definitely affected [learning] When we were [working] with [him], [class] would be much more engaging," stated Hogan. "We'd be able to work on assignments together and learn more because of his learning style, which is definitely more hands-on, and less assignment-based, [with] more cooperation based between student and teacher."
Nies agreed, stating how the absence of their teacher affected her.
"I'd say that his disappearance has certainly affected me. He's been gone for a week. We haven't learned anything and [the] assignments are really just busy work assignments. His absence definitely does affect our learning because in German, it's not really a content heavy class. We don't really learn that much. So it's just a huge gap," Nies described. 
Even though substitute teachers have filled in for Noble, it has not been the same learning experience for students. His absence has been  especially damaging regarding finals and the end-of-year Phonological Awareness Literacy Screening (PALS), as  other language teachers have been forced to administer the exams for Noble's students.
"Overall, [teachers haven't encouraged us to do our work] because they might say that at the beginning of class, but once we get back from lunch, they'll stop caring," said Nies.
Hogan shared similar thoughts regarding the substitutes.
"I wouldn't say encouragement, I would say self-interest in that they want us to be doing our work. They threatened us to do our work but nothing [ever happened]," stated Hogan. 
Because of these reasons,  many students hope one of their favorite teachers will return.
"I definitely miss him and I'd say the class misses him. Because he's one of those teachers where kids like him. He's not like 'here's your work, do it'. He's not one of those teachers who doesn't engage with his students. He jokes a lot. He's very involved with his students. So [yes,] I'd say everyone misses him," expressed Nies.