Testing—or lack thereof—in the age of ESSA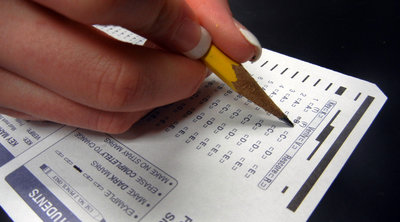 Carter Macdonald, Viewpoint Editor
March 22, 2017
Hang on for a minute...we're trying to find some more stories you might like.
With the passing of the Every Student Succeeds Act, standardized testing is no longer mandated like it was under No Child Left Behind. The state is changing its testing policy accordingly; these changes are supposed to be completed for the 2018-2019 school year.
That means the federal government no longer mandates SOLs. That doesn't mean, however, that students no longer have to take them. The Virginia Department of Education is reducing the amount of SOLs required, showing that they still see purpose in standardized testing.
"The point is that they are going to reduce the number of SOLs," said Principal Mukai. "They're going to get rid of chemistry and reduce the number of math SOLs. They would probably reduce the number of social studies tests, too."
Standardized tests have been a key component of measuring student success since NCLB. State curriculums are built around them, and a pattern of bad scores could cost a teacher his or her job. The number of verified credits it takes to graduate, or how to obtain them, will have to be adjusted.
"They've already eliminated some of the elementary school SOLs. They will find other ways to verify that the standards are met, other than the SOL," said Mukai.
The WS administration will not be the ones to make those decisions, whatever they may be. After all, the state and the county determines the graduation requirements.
"These decisions won't be made at the WS level. The FCPS instructional service, test office, and the state will have to decide how many verified credits will have to be taken for both the standard and the advanced diploma," said Mukai. "WS will change our graduation requirements to match those set by the state of Virginia and FCPS."
The ESSA's implementation will also depend on the national government, as it's a federal law enforced by the nation's executive branch. The finer details of the rollout are largely unknown at this time.
"Part of it depend on how the new administration will implement it, now that we have a new President and a new Congress. We have a new Secretary of Education. Right now, we don't know the exact impacts and effects it will have," said Mukai.
On the students' end, this all means they have to take less SOLs, and will be held to whatever other standards set to replace the removed SOLs. One student is happy with the state's move away from SOL testing.
"SOLs are kind of annoying, and they're really easy. I'd rather have a final than an SOL because SOLs are on the computer and I'd rather have paper in my hand," said senior Chase Monroe.
For the classes that no longer require SOLs, teachers will have more flexibility in writing their curriculums, unless any new standards are stricter.
"I would slow down a little and perhaps not cover as much material, but the material I do cover I would be more in depth," said chemistry teacher Janet Hughes.