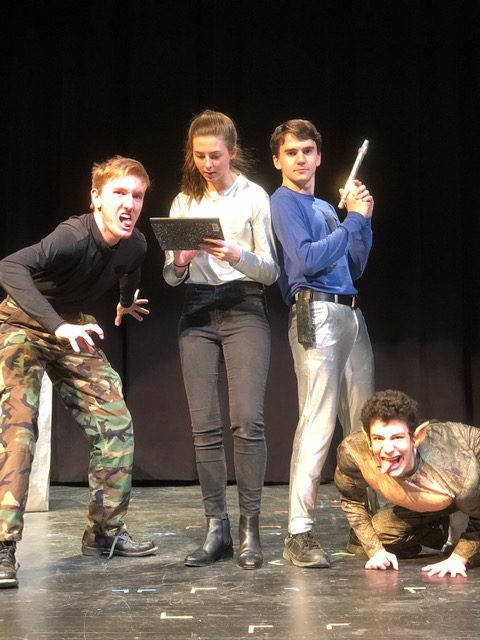 Katie Ours
Every year the WS theatre department puts on the same productions, the fall play, winter one acts, and the spring musical. However, the chance for students to participate and demonstrate their talents on the stage in winter one acts, is less known by the WS community.
The winter one acts are a tradition for the WS theatre three and four classes, and this year the theatre teacher decided to break the usual mold surrounding their production.
"They were run differently this year having all theatre threes and fours either write or direct one," said senior Helen Tingley. "The senior class really appreciated the opportunity to put our own creative thoughts into a bigger performance."
The one act plays were all written, directed, and acted out by the students in WS theatre classes and performed over the course of three nights. The student written and directed One Acts were all divided between three days, and the VHSL One Act written by Ms. Nash, It Stays, was performed at every show.
"I've written a one act before, but it was not to be performed," said senior Haleigh Morris. "So seeing it performed and seeing people enjoy it was a very exciting and different experience. Most activities are not as large, as in we don't usually perform our projects for a big audience."
The one acts gave seniors one last chance to produce their very own shows before leaving the program and possibly theatre forever.
"It varies for each senior, but I think everyone was very excited to see their vision on stage. I thought it was so crazy to see something I wrote on stage," said Morris. "I got more confidence from it. It showed me that I'm not a terrible writer and when people actually enjoyed and laughed at the things I wrote, it just felt amazing."
Not only did the one acts give seniors a change to demonstrate their abilities, underclassmen got to develop their acting and technical skills as well. They were given the opportunity to be in multiple plays and practice their acting skills in many ways. However, the focus was still on the senior class and their theatre skills acquired over the last few years.
"Me, having directed before, I learned new methods and styles of directing and what I find most comfortable," said Tingley. "Overall, it was a learning experience I think the whole department benefitted from."