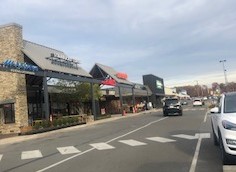 Amirah Sumrean
The Old Keene Mill shopping center makes up the very fabric of the WS student body, and is a staple of one's day.  For the past year, it has been under construction, getting a much needed facelift and is almost complete.
The plaza is a popular spot for students due to its close proximity to the school. Whether it's buying a cup of coffee before class, grabbing food after school, or working out at Planet Fitness, the plaza is a popular hang-out spot for many students.The shopping center includes stores such as: Austin Grill, Starbucks, Whole Foods, Mezeh, and BGR.
"I [used to] go to the shopping center before, it was pretty nice but definitely small with limited outdoor seating," said senior Ryan Lipton. "I don't think it absolutely needed to be renovated, however it is definitely a welcome change."
For as long as anyone can remember, this plaza has been a place of congregation for kids in the community. This popular after-school spot for high school and middle school students has been revamped and includes outside eating areas, as well as brand new signs for each shop.
"I feel like there's much more seating now and it's more spacious than before. It's definitely more attractive and there's many more places to sit and interact with your friends," said sophomore Sofia Zaidi.
The plaza's reconstruction comes after months of what seems to be nonstop construction in the West Springfield area. The new shopping center has been completed with gray stone and modern design as well as a new fireplace seating area, perfect for the cold months ahead.
"I'm really excited to try out the new seating areas and experience the new displays that are set up as well try out the new fire pits. It's a new experience and it's really exciting to encounter these changes." said Zaidi.
The students at WS are excited to break-in the new area and with winter break coming up, it is definitely going to be busy with eager people from around the area as well as those coming into town for the holidays. Construction is finishing at the perfect time and will surely be appreciated.
"I like the renovation because I think it will be a nicer place where you can hangout with friends or family," said Lipton.