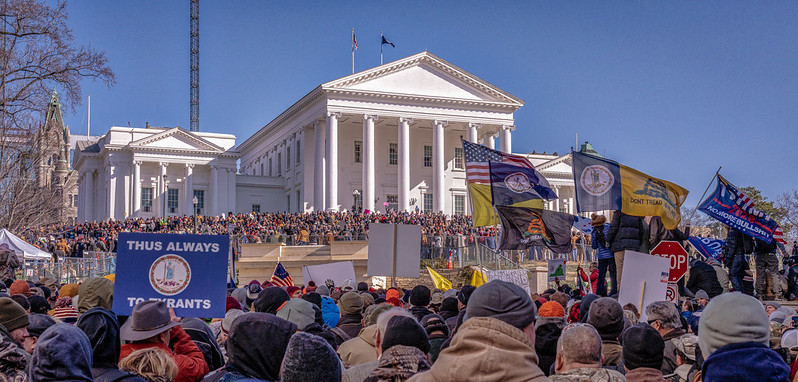 Courtesy of Mobilus In Monili via Flickr under CC liscense
Photo by Mobilus In Mobili via Flickr under Creative Commons License
Supporters of the 2nd Amendment gather at the state capitol in Richmond on Virginia's Lobby Day on January 20th. Thousands of gun owners and advocates from Virginia and states across the US came out to protest Governor Ralph Northam's newly proposed gun legislation. Weapons were banned on capitol grounds, but an even larger number assembled outside the fence carrying an arsenal of the "military style" weapons the current administration intends to ban.
For the first time in the 21st century, both houses in Virginia's legislature are under Democratic control. As a result, several new issues are poised to take center stage.
On January 7th, the day before the opening of the 2020 legislative session, Governor Ralph Northam (D) announced an 11 point legislative agenda with an assortment of progressive aims. These goals for the 2020 session include protecting reproductive rights, fighting discrimination in housing and criminal justice, simplfying the voting process, expanding funding for education and transportation, passing "common-sense" gun legislation, and advancing the Equal Rights Amendment to the US Constitution through Virginia. Virginia's Democratic party plans on using the 2019 election's liberal swing as an opportunity for significant change.
"We are presenting an agenda that is different from every previous General Assembly session," said Northam, "It's more forward looking than ever before, and it reflects what Virginians sent us here to do."
Some of Northam's legislative priorities, namely gun control, have drawn a lot of criticism. These include bills mandating background checks, putting a monthly limit on purchases and allowing localities to ban guns in public places. These measures, along with a proposed assault weapons ban and a proposed "red flag" law, prompted gun rights activists to organize an armed protest in Richmond on Martin Luther King Jr. Day, which serves as Virginia's lobbying day. Demonstrators came in the tens of thousands to the rally, which came and went without conflict.
The tensions around the proposed legislation place renewed pressure on Governor Northam. 2nd amendment supporters have begun circulating recall petitions, and 11th district Senator Amanda Chase called for his resignation in a Facebook post. This pressure on Northam comes almost a year after members of both parties called for his resignation, following the discovery of his wearing blackface in a picture in his 1984 medical school yearbook.
While tensions around Virginia Democrats increase in light of the continuing gun debate, the party was also able to fulfill some of its less controversial promises during the beginning of this session. On January 15th, both chambers passed the Equal Rights Amendment, which prohibits discrimination by the US or any of its states on the grounds of sex. Virginia became the 38th state to ratify, arguably the last needed, although opponents argue that the deadline for ratification has passed. Regardless of the national outcome, ratifying the ERA is a symbolic step, and a prompt fulfillment of the Democratic majority's promise.
Along with the ERA's ratification comes a more tangible sign of progress toward gender equality. On January 8th, the House of Delegates swore in their first female speaker, Eileen Filler-Corn. Filler-Corn, who is also the first Jewish speaker, represents local District 41 which encompasses much of Fairfax, Burke, and a significant portion of West Springfield. The legislature made more history electing the Senate's first African American, female President Pro Tempore, Louise Lucas (D) of Senate District 18.
Beyond the more hot button topics, there is an assortment of issues that the legislature plans on covering during their 60 day session. Several criminal justice reforms have been proposed, including marijuana decriminalization, increasing opportunities for parole, and decreasing the suspension of driver's licenses. Some proposals aim to tackle specific issues, including the "New Voices" bill, which aims to reduce the censorship of public student publications, which is currently allowed under the 1988 Hazelwood decision.
The shift to a Democratic majority in both chambers represents a shift in legislative priorities. With some of these goals seeing apparent popular support, and others, like gun legislation, facing widespread opposition, it will be interesting to see what this new legislature will achieve during the 2020 session.