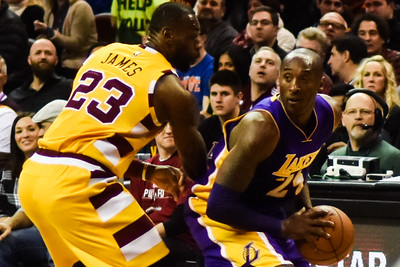 Courtesy of Erik Drost via Flickr under CC liscense
On January 26th, TMZ broke the news that NBA great Kobe Bryant and his 13 year old daughter Gianna died in a helicopter crash that claimed the lives of all nine passengers. The group was headed to a tournament at Kobe's Mamba Sports Academy, where he coached his daughter's team. Bryant's death came only the night after he congratulated current Laker Lebron James for passing him to claim third place on the NBA's all-time scoring leaderboard.
Bryant entered the league at 17, straight out of high school, emerging as a star by his second season. An 18 time All-Star throughout his 20 seasons with the Los Angeles Lakers, Bryant is widely regarded as one of the greatest players of all time, winning five championships, two Finals MVP awards, and the 2008 MVP award. Often referred to as the "Black Mamba," Bryant was admired by both basketball fans and others. His win-or-die attitude, and his "Mamba Mentality" inspired many people to give 100% effort to any challenge life has to offer.
"His work ethic, and how hard he worked to be such a great player, just inspires other people to work hard to be great players too," said varsity guard, senior Tyler Treasure.
Bryant will also be remembered for his skills beyond the NBA. A savvy businessman, he sought out an array of endorsements that went beyond a Nike deal and NBA 2k covers to include a watch collection and even a Sony record deal early in his career. Even after his retirement, Bryant published a book, and won an Oscar in the category of best animated short film, for his Dear Basketball. 
As he grew his fortune making plays on and off the court, Bryant also made significant efforts to help the world around him. Bryant was an ambassador for After School All Stars, an organization offering after school programs to at-risk youth in several US cities. He later founded his family's own philanthropic organization, the Kobe and Vanessa Bryant Family Foundation, and he was particularly concerned with helping young people in need, and the homeless. Bryant was also renowned for his efforts as an ambassador for basketball, and he made strides promoting basketball in China, Taiwan and Japan, among other countries. The founder of the Kobe Bryant China Fund, he was adored across East Asia.
"Kobe inspired a generation of young Taiwanese basketball players, and his legacy will live on through those who loved him," wrote Taiwanese President Tsai Ing-Wen on Twitter following the news of his passing.
Before the crash, Bryant had been spending the bulk of his time coaching Gianna's competitive travel team. Her death and the death of her teammates at such a young age, with such a great loss of potential, only intensifies the tragedy for Bryant's wife and three surviving children. Kobe Bryant's legacy will be forever remembered by the millions of fans who continue to shout his name as they shoot, an invocation of the patron saint of basketball greatness.