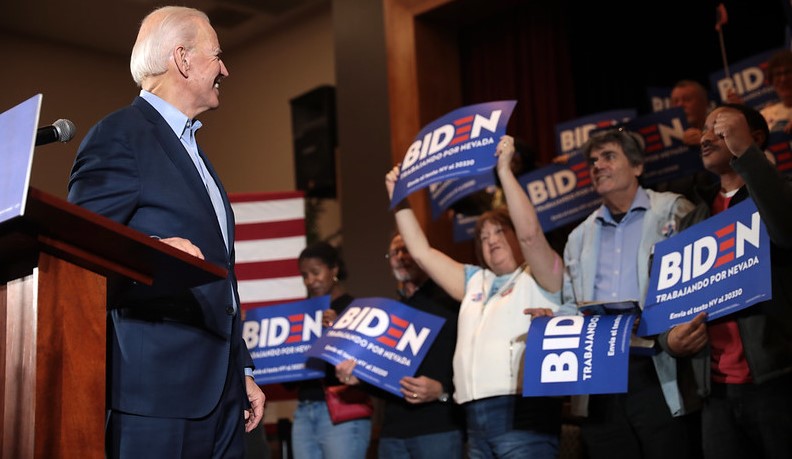 Photo Courtesy of Gage Skidmore via Flickr under Creative Common License
As the Democratic party gears up to take on President Trump in the general election this fall, they first had to narrow down a historically large field, which originally contained 29 major candidates. After the four early primaries and Super Tuesday, the race to the nomination has started to gain some definition
Along with Senator Bernie Sanders, former Vice President Joe Biden and Senator Elizabeth Warren were early frontrunners, but after the early primaries, Biden and Warren lost momentum to surges by two younger, fresher candidates- former mayor of South Bend, Indiana, Pete Buttigieg, and Minnesota Senator Amy Kloubchar. Following Sanders' victories in New Hampshire, Nevada and Iowa, and Biden's key win in South Carolina, Buttigieg and Klobuchar dropped out to allow the moderate majority of the party to rally behind Biden rather than remaining divided against Sanders' more radically progressive platform.
A more decisive primary in New Hampshire reassured voters who were rattled after the chaotic Iowa Caucuses the week before. The caucuses received widespread criticism after the Iowa Democratic Party decided to use an app riddled with bugs that prevented accurate, timely reporting of results. After the app failed, precincts were forced to call in results to a hotline, which was quickly overrun by prank calls in addition to hundreds of actual reports. The full results took over three days to come out, and as the smoke cleared, Buttigieg won the state by one delegate over Sanders, with a very small margin of two precincts. The Buttigieg and Sanders campaigns both requested recanvassing of the results of an assortment of precincts.
"The failure of the app just set off a chain reaction of a bunch of other things that made it worse and worse as the night and ultimately days went on," said Norm Sterzenbach, a former Iowa Democratic Party executive who previously supervised the development of Iowa's caucus reporting system.
New Hampshire's primaries went very smoothly relative to the week-long ordreal in Iowa. Sanders distinctly won the popular vote, capturing nine delegates along with Buttigieg. New Hampshire was also a strong showing for Kloubchar, who captured six. Early frontrunners Biden and Warren failed to secure a delegate or a significant portion of the popular vote.
Heading into Super Tuesday, the field had narrowed down to five candidates. In addition to Sanders, Biden and Warren, Hawaii Representative Tulsi Gabbard remained in the race along with late entrant, billionaire former NYC mayor Mike Bloomberg. Bloomberg was projected as a sort of wild card headed into Super Tuesday, sinking over 500 million dollars into ads preceding the biggest day of the primaries, but his expenditures did not pay off, and he dropped out to endorse Biden the next day.
Biden's campaign faltered during the earlier primaries, as critics raised concerns about his age and fitness for office, but he was able to secure an impressive majority of delegates on Super Tuesday following his success in South Carolina.
Biden took Super Tuesday's southern states along with Texas, Minnesota, Massachusetts and Maine. Sanders was able to grab the day's big prize, California, along with Utah, Colorado and his home state of Vermont. As of Wednesday, March 4th, Biden has 433 delegates to Sanders' 388, along with new momentum derived from the support of moderates choosing from a narrower field.