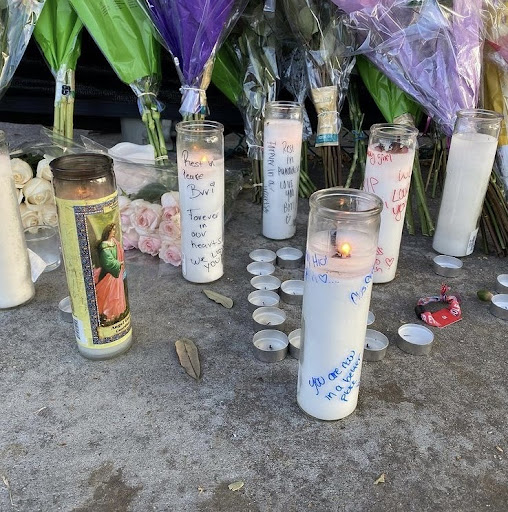 @adambennettkhou
Tragedy struck during the Astroworld Festival, a long-anticipated event for Travis Scott fans everywhere, resulting in the deaths of ten people and the hospitalization of many more. 
Mayhem erupted on November 5 at NRG Park in Houston during Scott's performance with guest artist Drake. Notoriously rowdy Scott fans anxiously awaited the start of the show. As energy began to build, the buzzing 50,000 member crowd began forcing their way to the stage, trapping those already in front with no escape. Chest to chest and packed like sardines, crowd members found themselves pushed to the floor in the suffocating, standstill-mosh-pit and trampled in the chaos, screaming for help. Chants of "stop the show!" erupted from the audience, but the set did not stop.
The crowd-rushing resulted in the deaths of ten people between the ages of nine and 27, and the hospitalization of at least 25 more. The exact causes of death are still unknown.
Unfortunately, this level of fan-mania is common at Travis Scott concerts, with people saying that his performances feel more like a fight for one's life than a concert. Such riot-like surges, however, only add to the legendary reputation of his live shows. 
"Travis Scott has been the same performer ever since he had three people at his shows. You know what you're getting into when you go to see him," explained senior Max Nelson, an upcoming artist under the name Channelmax. "[His fans are] a cult. It's a cult. But every artist that's big right now with a cult following is winning, because these are the supporters that are going to wait in the snow just for your [merchandise] to drop."
Talk of extreme Stan culture circles the media often, with headlines describing it as dangerous celebrity worship. The line between being a hardcore Stan and being reckless, or even dangerous, is blurry. Hardcore punk and rap artists seem to come with a prerequisite of danger and violent energy at their performances, and Stans directly reflect whatever energy their idols possess.
"I'm going to see Playboi Carti [in concert] and I said to myself I'm gonna need to get in the gem for Carti, literally make sure my body is ready, because you're not going to see Katy Perry where you can sit down and chill–you're going to rage," continued Nelson. "People were passing out when they saw Michael Jackson, but the difference is Michael Jackson's music doesn't influence rage because of his lyrics and his groove and everything. But when you're listening to Sicko Mode and everyone around you is jumping up and down and punching each other, it's a completely different scene."
Effects of reckless Stan behavior were seen before the festival even began, with thousands of fans stampeding through security, storming the gates, and knocking over metal detectors in the process, which set the hazardous tone for the rest of the event. Nelson describes this behavior as an indicator of an extremely successful artist. 
"Every GOAT of music has Stans or a cult following, you can't name one that doesn't," noted Nelson. "That's exactly what you want as an artist though, because there's a difference between fans and die-hard supporters." 
Knowing his influence and the nature of his concerts, some think Scott should have done much more to stop the chaos. Others think too much blame is being put onto the artist.
"Travis Scott is an entertainer and his job is to perform, not necessarily save lives; that's Live Nation's [the show's promoter] part of the puzzle," commented Nelson. "I think that it was very irresponsible of Live Nation to know fifty thousand people were gonna be there and have that lack of security."
The Astroworld Festival is now one of the deadliest concerts in American history, and the effects of the tragedy could be seen for years to come. The hope for the future is that audience members stay safe, performers listen to their fans, and security teams come prepared.
"Concerts are going to be completely different after this, [people] are watching for the slightest slip-up," critiqued Nelson. "No one should die at a concert."