Freshman runners race their way to National meet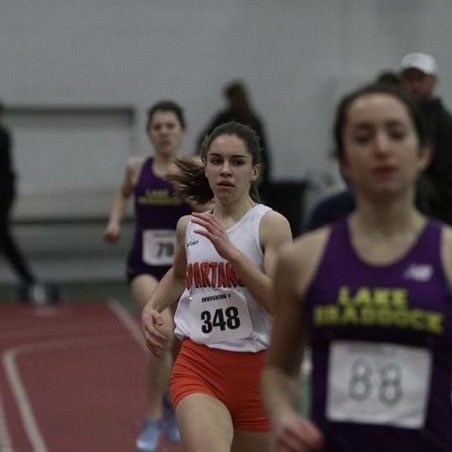 Andrew Giddings, Oracle Staff Writer
April 26, 2017
Hang on for a minute...we're trying to find some more stories you might like.
This year, two freshmen Rachel Mayberry and Chris Weeks, have made it all the way to track Nationals. New Balance Indoor Nationals was held this year in New York, and is a competition of the nation's best high school runners.
"It started with the first meet of the year, and my first mile. And then the other several meets, getting the chance to run the mile more and more, which is what I am running in nationals," said freshman Chris Weeks, "I work and practice constantly, making sure I can keep up with the pack."
The New Balance Indoor Nationals is composed of some of the best high school runners, which makes it understandable that it would be such a tough competition. Weeks ran the mile and finished in ninth place.
"So the way the race went, we went out fast, which separated the pack out, and then we slowed down in the middle due to one of the guys, and that made everyone get into a large pack, and there was a lot of congestion, which slowed the race down," said Weeks.
The other freshman from WS who made it to Nationals was Rachel Mayberry. She ran the open freshman 400m dash, and set a new personal record with a time of 60.6 seconds.
"I went slower the first 100, and realized that I needed to speed up, so I sped up, and by the end of the second lap I was in third or fourth. I finished fourth," said freshman Rachel Mayberry.
Getting to move up to one of the highest levels of competition as a freshman is a true achievement, and gave both runners an opportunity to see skilled runners in action.
"It was one of the coolest things just to watch the other races and these amazing other athletes, like the seniors and juniors compete and see just how fast they really are." said Weeks. "And the atmosphere there was really cool. It was also fun just to race the other freshmen and see where you stand with them."
Since these two made it to the New Balance Indoor Nationals their freshman year, this means they have a great deal of potential for future years in the track program at WS.
"It was a good experience. It was obviously my first nationals. It was an overall fun experience. I learned a lot," said Mayberry.