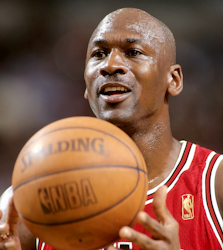 Steve Lipofsky via Wikimedia under Creative Commons License
With the recent conclusion of the 2020 NBA Finals, the seemingly age old debate regarding the greatest basketball player of all time has reignited, sparking heated discussion among fans and sports media alike. LeBron James or Michael Jordan? Who deserves the title as the best to ever play the game? The answer remains quite clear: Michael Jordan stands preeminent above all, deserving the title and recognition as the best ever. 
To begin, Jordan was simply more polished and well-rounded than James. He not only was a prolific scorer but remained both efficient and tenacious on the defensive end of the floor. Throughout his illustrious 15 year career, Jordan compiled five Most Valuable Player awards and ten scoring titles. James, in comparison, led the league in scoring once and has accumulated four MVP awards. Additionally, Jordan boasts the highest points per game average in NBA history at 30.1; James' career average stands at 27.1 per game. On defense, Jordan ranks among the best of all time. Jordan was named to nine All-Defensive first teams and was recognized as Defensive Player of the Year. James has yet to receive the prestigious award and has been selected to only five All-Defensive first teams. Jordan also led the league in steals on three separate occasions and remains third all time in this category.  
Additionally, Jordan found more success throughout regular and postseason play, despite enduring far greater competition than James. FiveThirtyEight.com, developed power rankings for each NBA franchise throughout the league's 74 year history. Micah Adams, a reporter from NBA.com Canada, used this ranking system to compare all 82 teams that faced both Jordan (37) and James (45) in postseason play leading up to the Finals. Adams assessed that out of the top 11 toughest clubs to face either player in the playoffs, eight faced Jordan as opposed to James. The data is even more convincing when examining opponents in their combined 18 Conference Finals appearances. Adams found that four of the top five toughest teams in the Conference Finals faced Jordan. James, on the other hand, faced seven of the bottom eight teams on this list. 
Some of Jordan's most impressive statistics relate to the games that matter most: the NBA Finals. Jordan remained unbeaten in the Finals, repeating as NBA Champion three consecutive times on two separate occasions. Jordan ranks second all time in points per game in The Finals and was awarded Finals Most Valuable Player six times. James on the contrary, possesses an abysmal four and six record in the Finals having been recognized as Finals MVP four times.
The debate remains polarizing, oftentimes resulting in impassioned arguments and bitter disagreement. However, after considering the statistics and myriad of accolades, it becomes clear who truly reigns supreme.