Adele solidifies her spot in student's hearts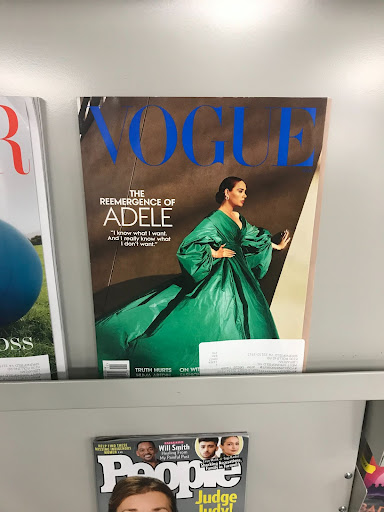 After nearly six years of waiting, Adele finally returns to her music roots with her new single "Easy on Me," and a new album, "30," which was released on November 19th, much to the shock and joy of her loyal fanbase.
"[Easy on Me is] really good," said senior August Bristow. "It's simple for her, but it definitely sounds like Adele."
Her comeback has not been taken lightly, with "Easy on Me" amassing 24 million streams in its first 24 hours and 84 million in its first week, becoming the most streamed song in a day and week in Spotify history and already one of the most streamed songs in U.S. history. Adele has also been featured on the covers of British and American Vogue and done interviews for BBC and Good Morning America. 
"She's a superstar," said Bristow.
Adele released the song right before the beginning of the tracking period for weekly streams, at 7 p.m. rather than 12 a.m., which caused the song to debut at only number 68 on the Billboard hot 100 chart. She still, however, gained three million streams and radio impressions in just those five hours alone.
"I'm really excited," said senior Natasha Yotmanee. "You can see how everyone unites as we prepare for her album to be released too."
With Taylor Swift moving her album date from November 19th to December 12th, any discussion already made about Adele's popularity has only been exacerbated with rumors of Swift moving her album date to accommodate Adele's new album. Swift hasn't confirmed nor denied the rumors.
For Swifties and Adele fans alike, this rumor doesn't cause any animosity between the two groups. Instead, it brings attention to Adele's spot in music culture. 
"I'm good with the two of them, but no one writes a sad song like Adele, not even Taylor Swift," said Bristow.
For years, critics have praised Adele for her emotionally driven music, particularly citing "Easy on Me" as a classic and heartfelt song. Her style causes both fans and casual listeners to experience an emotional connection to her music, giving her a consistently-positive public reception even six years later.
"I think [some] of her songs I fell in love with [were] 'Rolling in the Deep,' 'Set Fire to the Rain' 'When we were Younger,' so pretty much all of her top songs," said Yotmanee. "Even though I can't relate to someone over 10 years older than me, it incites this sort of feeling that can't be explained."
There's also a large amount of her fanbase that sees Adele's music as unique against her counterparts, causing her to stand out in the music industry as their favorite artist.
"Her music brings this sort of passion and feeling that makes me happy or sad or just motivates me in a way that other artists just don't do the same," said Yotmanee. "You can see how she cares about her audience by the way she portrays herself through her music, which is something she does really well. Compared to other artists who write just for the lyrics or money, and you can see how she truly thinks about what she wants to write for each and every one of her albums."
For others, Adele's music is simply a source of nostalgia based on her popularity in the last decade.
"I used to listen to Adele when I was younger and she was so amazing and she still is now," said senior Labibah Haque. "Tiktok brought back some of her old music and it's trending now. It gives me deja vu from when I was little."
With the critical success of her past three albums being far earlier in her career and the landscape of the music industry shifting towards valuing streaming over digital copies, the future of "30" remains unclear, but fans like Yotmanee remain optimistic. 
"Stream '30' on November 19th," said Yotmanee. "We all need to come together for this."