The miserable masterpiece of Hype House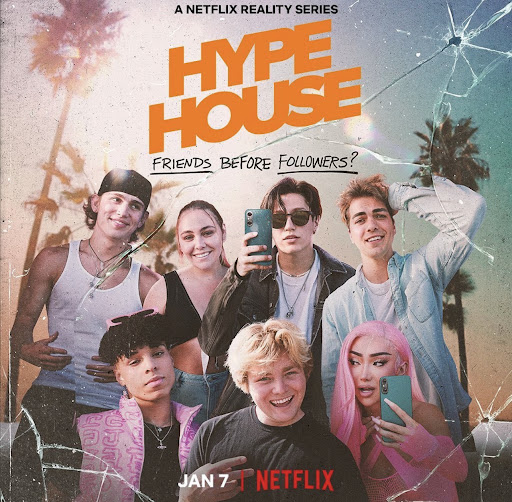 The infamous TikTok collective of the Hype House has struck again, this time, right on our television screens. Netflix launched a reality tv show, starring the members of the house and other social media stars, and even though its intent is clearly meant to be offshore PR for the group. The show has a magically depressing talent for making all of the people in it completely unlikable.
Exceptions were made, however, in terms of unlikeability. Hype House members Larri Merritt, known as Larray, and Vinnie Hacker were consistently funny to watch. They seemed to be the most genuine and humble. Hype House "sister" and WS alumni Nikita Dragun brought some form of life to an otherwise completely dull and barren house, once one can ignore her plethora of scandals and displays of ignorance, which the show addresses in the most surface-level way possible, as if racism and super-spreading for the sake of a party are cute plot points. Still, everyone else made the four-hour binge painful.
The desperation they all had to make the house work was not only gut-wrenching but just plain sad to witness. One of the main members, Alex Warren, created a fake wedding with his girlfriend, Kouvr Annon, for classic clickbait content. Annon admits she wishes this was real before crying but, "anything for content." The house leader, Thomas Petrou, gets everyone to go on a retreat and gets mad when people actually enjoy themselves instead of doing their required three TikToks a day.
Throughout the show, it's so abundantly clear the only interesting thing about the members is just how obsessed they are with engagement, almost to the point where they will destroy and exploit whatever they can out of themselves and the people around them to make the quick cash. It's hard to blame them, however, as it's that very toxic cycle keeping their lights on, but it makes one think working at a high-end firm on Wall Street is somehow more peaceful.
Not to mention, they all have tragic backstories. Many of them come from broken families, with members like Warren having to go through homelessness and his father's death and Mia Hayward fighting against her abusive father. It makes the show sadder, primarily how they all treat being in the Hype House as the ultimate escape out of their trauma when they clearly still carry it with them, like when they ostracize Hacker for not Tiktok-ing himself to misery like the rest of them did. None of their backgrounds make me want to root for the house to be a success. Instead, it makes the viewer want to seek therapy and escape from such a soulless life.
The most enjoyable part of the show was when Petrou announced he was ending the house altogether, only for the show to end with him announcing a Hype House 3.0 and having a little kumbaya moment in the end as if the broken union of the house was suddenly brought back to life by a music number, while the opposite happens to the viewer.
Overall, this show was a five-out-of-five, solely because some brain cells definitely died in the process, which is what a proper reality TV show is meant to do. It wasn't even entertaining in the way other reality shows like "Love Island" or "Too Hot to Handle" are; the show takes itself too seriously and doesn't understand that their fans are mostly 10-year-olds. That lack of self-awareness in itself was beautiful to witness, like when astronomers look into planets entirely in chaos. The urge to delete TikTok and never be a social media star was also stronger afterward, which is ultimately better for the mental health of everyone.
If Petrou or any member of the Hype House collaboration is reading this, just know you don't have to hang on to the loose threads of the group to be successful. Just move on, invest the money you have, seek out another career path, and use those tens of thousands spent making those videos on some quality therapy.