The enigma that is Kanye West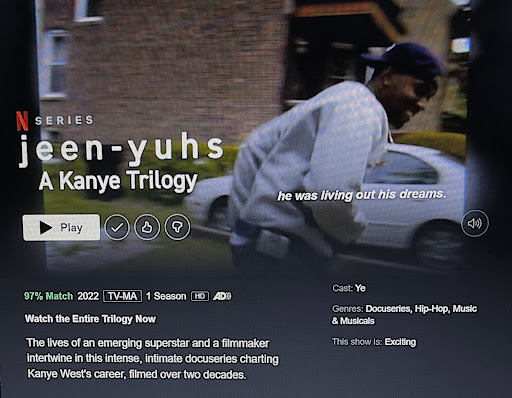 Rap icon Ye, formerly Kanye West, has been stuck in the headlines since the conception of his career. Currently, the limelight remains incessant following the release of his album "Donda," highly public split from wife Kim Kardashian, and long-awaited release of docuseries "jeen-yuhs" on Netflix.
"jeen-yuhs: A Kanye Trilogy," a deep-seated documentary filmed by Coodie Simmons, follows the exponential trajectory of Ye's career spanning two decades. Ye and Simmons combine in a supernova of Hollywood dreams, 19-year-old Ye hoping to make it to unabashed stardom, and Simmons, an aspiring filmmaker with an intriguing muse. Together, the two, plus a camera, intimately captured the legendary life of Kanye "Ye" West for the public to see twenty years later. 
"I absolutely loved ['jeen-yuhs']," expressed senior Amanuel Sisay. "It was inspiring in more ways than one. From the behind the scenes look at the production of iconic songs, to the inside scoop of how Kanye acted while not being around the press. Seeing him grow and also deteriorate gave me a different perspective on the effect of succes. Truly a masterpiece of a documentary."
The film is split into three acts, or episodes, that run about ninety minutes each and are titled as follows: "act i: VISION," "act ii: PURPOSE," and "act iii: AWAKENING."
Not only does the documentary give viewers a never-before-seen side of Ye at the very bud of his career, but in "act iii: AWAKENING," audiences get to witness a summary of the turmoil in the recent years of Ye's career, including the devastating death of mother Donda, his interruption of Taylor Swift's award acceptance at the 2009 VMAs, and failed 2020 Presidential campaign.
"My favorite episode has to be [AWAKENING]," said Sisay. "This episode kind of represented the fall of Kanye mentally due to his success. It showed that being on top of the world takes a toll on the mind."
Ye has shared his diagnosis of bipolar disorder with the public, even having the cover art of self-titled eighth studio album, Ye, read, "I hate being Bi-Polar it's awesome." Having clear issues with mental health and apparent manic episodes, however, does not protect Ye from the ruthless peanut gallery of meme culture. 
Rather alarming posts by Ye via Instagram calling out "enemies" and pitting himself against comedian Pete Davidson and singer Billie Eilish, for example, have been a source of comedy for fans and haters alike, but, although the posts may appear ridiculously hilarious at face value, what lies beneath the surface is someone who needs help. The conversation being ignored is that of a person who may be acting out under extreme duress and should not be laughed at, but aided.
"I think that being famous causes people to think that celebrities are impervious to serious things like mental illness," asserted senior and Ye fan Jonah Bradley. "In Kanye's case, I think people see it more as a joke than a serious illness. People should be more concerned and aware about mental illness for everyone."
"I think celebrities deal with so much pressure around the world that it can be detrimental mentally," commented Sisay. "Having so many eyes on you would stress anyone out. The media should take a step back on how intrusive they can be at times."
Fans speculate that following the death of his beloved mother, Donda, in 2007, Ye has never been the same. His recent split from Kim Kardashian, along with her new contentious relationship with Pete Davidson, presents an evidently severe stressor on Ye's mental health. 
His latest and highly controversial release of song "Eazy," accompanied by a clay animation music video depicting a decapitated head of Pete Davidson (affectionately referred to as "Skete"), has made it hard even for fans of Ye to take a defensive stance on him. Some used to refer to his viral and controversial moments as "just Kanye being Kanye," yet all this time, it has been a clear pattern indicating mental distress. The passing of Donda and his deity-esque superstardom simply exasperated and magnified textbook effects of bipolar disorder.
Although the argument of "crazy genius" may be made for this idol of music, Ye proves time and time again that sometimes, celebrities just aren't meant for the burning spotlight, no matter how confident or godly they may feel.
"The entire situation has definitely shown us who Kanye is," explained Sisay. "He can be childish a lot and take his personal business on to social media, which is immature."
"I think that Kanye hasn't really changed as a person," observed Bradley. "His actions have always been very outlandish and controversial, and his reactions to Pete Davidson and Kim are examples of that."
As a venerated rap, fashion, and culture icon, Ye has revolutionized the music game with such magnitude to have earned the respect of his mentors. Yet the image of Kanye "Ye" West has been irreparably smeared at the hands of controversy and viral outbursts. 
It is time for the conversation around Ye to change from one of myopic condemnation to one of understanding the reality of mental illness.