New "Percy Jackson" Disney+ series raises racism against casting choices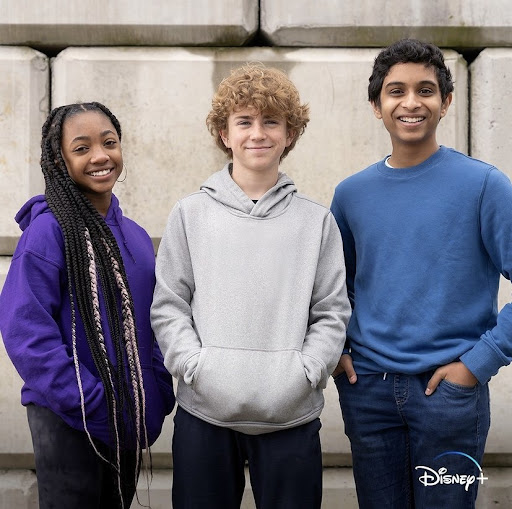 The "Percy Jackson" franchise has been through a lot. From many beloved books to widely disapproved-of movies, its logical next step is a Disney+ adaptation, which has just recently revealed the castings for the three main characters.
"Shocked doesn't seem to encapsulate how thrilled I was to see the casting," said freshman Maya Raza. "I almost didn't believe it at first—I kept sending it to people, trying to validate its existence, because I was scared it would be fake."
The three actors cast as the characters of the main trio are Walker Scobell as Percy Jackson, Leah Sava Jeffries as Annabeth Chase, and Aryan Simhadri as Grover Underwood. An important detail is that Jeffries and Simhadri are both people of color (POC), though their characters were both described as white in the books.
"As an Indian, I was really excited to have a brown character who wasn't portrayed as a nerd or just used for cheap laughs, like Ravi from 'Jessie' and 'Bunk'd'," said freshman Sophie Johnson on Grover's actor.
With these announcements came some backlash from "fans" who believe the appearance of the actors is more important than the events happening on-screen. This is a generally pointless (and not to mention racist) criticism, because as the "Percy Jackson & the Olympians" movies have demonstrated, the most essential part of a book-to-screen adaptation is a faithful plot that makes sense.
"It's especially disturbing because the actors are kids who shouldn't have to be dealing with racism at all, let alone so early," said Raza. "The race of the actors in no way affects the skill with which they act, or the quality of their work."
Rick Riordan, the creator of "Percy Jackson", has spoken up about this racism in a news post on his website. He makes it quite clear that the negative reactions to Annabeth's casting are uncalled for and that he is wholeheartedly sure she is the perfect Wise Girl for the role. Alongside this, most of the "Percy Jackson" fanbase has defended Jeffries' casting as well as Simhadri's.
"After the movies, I'm definitely wary, but I'm also excited to see what happens," added Raza. "Maybe my bar is low, but a POC cast is more than I ever dreamed of, so maybe the show will be too."