"Nope", a magnificent departure from the norm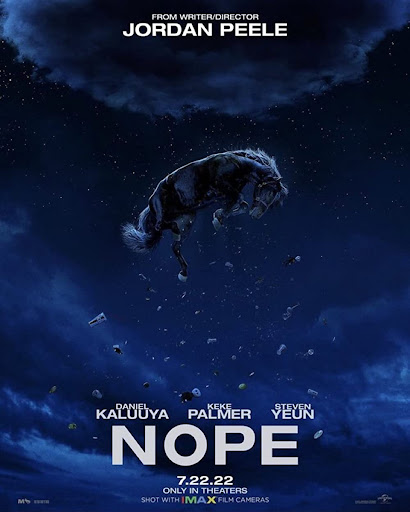 Jordan Peele's latest film "Nope" seems to fall perfectly into the theme of "cowboys versus aliens," except for the consensus that it is not a horror film. Instead, the movie pushes the boundaries between genres to become more sinister and psychological. The limits of what horror and sci-fi typically mean are far surpassed in this film that expands across genres and themes in a way that is sure to captivate audiences.
Peele is greatly known for his work of turning a piece of bizarre and even chilling fiction into something that resembles reality with all its eerie images and twists. Despite being far more strange and other worldly than his previous films, "Nope" continues to mirror reality by following multiple storylines, some of which seem to only exist to cement the themes and messages he wants viewers to question. This film is far more beautiful when one enters blindly, however, it is important to note some of the themes resonate with grief, issues of monetization of tragedies, and even exploitation in Hollywood and will leave you pondering. 
While the cinematography and style does provide a beautiful homage to other classics such as Steven Spielberg's films, Peele still managed to create a story that is so gripping and distinct on its own through its method of connecting with audiences. The movie tackles its heavy themes through powerful acting and striking cinematography– nearly tricking the audience through Peele's craftsmanship and expertise.  
The actors in this film are truly beyond exceptional as they are able to capture the complexity and sincerity of Peele's image. While the entire cast, including Steven Yeun and even Barbie Ferreira's cameo, helped shape "Nope" into a far more impactful and believable film. The performances from the leads, Keke Palmer and the renowned Daniel Kaluuya, truly make the film the timeless piece it is bound to become. These two actors play the Haywood siblings and were able to master a sibling connection that feels so dynamic and candid. Their characters are practically polar opposites, with Palmer bringing the energy and buzz that Kaluuya's character lacks. That is not to say these characters fall short of providing more than cliché opposites. Their interactions on screen are able to ground the unconventional and chilling film by masterfully providing comedic relief in a way that simply adds to the depth of the movie. Their performances feel so real and authentic that one is sure to grow attached to their characters or even find a piece of oneself in them. 
The essence of "Nope," however, is not for everyone. Unlike Peele's other works, such as "Us" and "Get Out," his most recent film does not capture the same horrific elements in the classic way of trying to piece together a grand reveal. Instead, the entire film is an experience and the best way to enjoy it is to simply flow with it and allow the cinematography and story to unfold on its own. Don't try to piece the plot lines together and beat the director to the final scene because this beautiful and chilling film takes you on a journey far from your typical alien hunt. Peele crafts a masterpiece that will leave audiences pondering for weeks what the film truly meant.
"Interesting, funny, and weird," said senior Jason Doll.
"A wonderfully made commentary on spectacle that was very thrilling and great," said sophomore Nat Phillips.
"This movie is genius," said Jack Furman.