"Our Town" behind-the-scenes
"I'm nervous, but I've heard that nervous and excited are the same feeling, so we're going to go with excited." -Maddie Schulz, junior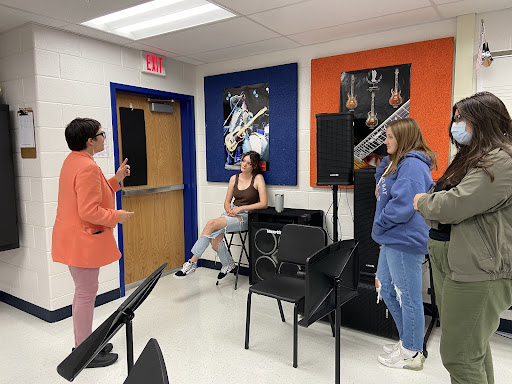 Though the most recognized part of a theatre production is typically the final product, seeing the characters act out the story on stage requires a multitude of steps that take place behind-the-scenes. 
The first step is letting people know. The week of the auditions, there was plenty of advertising, which was a much shorter notice than in previous years. The sign-up process was entirely online, and after that, students auditioned after school, reciting a monologue to director Maeve Nash, which she filmed. Thespian officers waited with and talked to students before their auditions to lessen their nerves.
"Choosing the monologue is an important part of preparation, which was really hard this time because we only had about a week to prepare, and you want to pick something in the same style of the show," said junior Kaylee Wisner.
Once students choose their monologue, the next step is memorization. Everyone has a different approach to it; for example, Wisner utilized Quizlet flashcards to learn her monologue line-by-line.
"Once I've selected a monologue, I go through it and read it a bunch, try it different ways out loud, get into the headspace of the character, and do a line-by-line breakdown to decide what emotion and headspace the character is in for every single word," said senior Lilly Barber. "I just write it down a bunch."
After the two days of preliminary auditions, a callback list is posted so students can come back the next day to read from the script of "Our Town", this year's fall play. Then, Nash makes the final decisions and posts the cast and crew lists, the latter of which is decided through an application. Once the lists are out, she'll be assisted by the stage manager and other crew members through the rest of the process.
"I try as best as I can as a person to not take into account what I know about the actors from the rest of their work. Instead, I just really focus on what they do in the audition and their resume," said Nash. "I try to do the same for the crew, where rather than thinking about how I know them and what I've seen, I also take into account their responses to the application questions and their past experience."
Nash closely studies the play in preparation for casting every year. She has to take into account what the needs of the play are, with both the cast and crew. For example, she casts actors by thinking about who will work best with her vision and with each other, and brings on newer crew members to work on simpler sets like the set of "Our Town" so they can learn as they go.
"I always tell actors that so much of the casting decision is outside of their control… it all comes down to how they play off of another actor, and how they look with another actor, and how they sound on stage, and how old they look on stage," explained Nash. "It's cool because you could have an actor do something that totally surprises you, and it's not something you were expecting from the character, which can be great."
"Our Town" will be performed in the auditorium on October 20-23.