Sanrio's characters strengthen relationships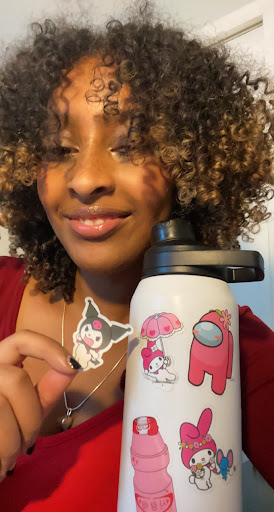 This piece was written by Anisha Iqbal during the Asian American Journalists Association JCamp program at University of Southern California in Los Angeles.
The company Sanrio is known for its collection of characters serving cultural connections that deepens bonds and provides the perfect promenade for connoisseurs of cuteness to unite.
Since Sanrio is a Japanese company, the characters are often adorned in traditional outfits in cultural settings. For example, the company sells Hello Kitty dolls dressed in kimonos, which are Japanese formalwear for special occasions. 
This approach comes to life at the company's store in the Japanese Village Plaza within Little Tokyo. The decorations outside feature Japanese-style lanterns and a depiction of all the characters in kimonos on a wall. 
Riko Yamagata, 20, from Bakersfield, CA, is a longtime Sanrio fan who holds fond memories connecting Hello Kitty to her relationship with her grandmother. Yamagata's grandmother is from Yamanashi Prefecture, where Sanrio was founded. After Yamagata was born in America, her grandmother always gifted her Hello Kitty merchandise from Japan. The expressionless face and red bow of Hello Kitty remind Yamagata of her grandmother and, in a sense, her Japanese heritage. 
For others, simply liking Sanrio or cute characters is a cause for stereotyping. Those not part of Sanrio's target demographic of younger girls often face prejudice from unfounded assumptions. 
"Since I'm a guy, especially one in high school, people always look at me weird when they see the Pompompurin keychain on my bag," said Christopher Yun, 17, from San Francisco, CA. Pompompurin refers to his favorite Sanrio character. "It shouldn't be weird that I am a straight, teenage male who also happens to like cute stuff."
Though targeted presumptions may be commonplace, this does not deter people of all ages and walks of life from appreciating Sanrio. Even those who do not fully comprehend the charm of Sanrio can still acknowledge the notion behind its longstanding fame. 
"I never understood the popularity of Hello Kitty when I was younger, so I can't possibly understand why it has remained popular in the decades since then," said Josh du Lac, a CNN journalist who covered pop culture in the past. "Pop culture is funny in how things like certain music or Hello Kitty have great appeal to certain groups and none whatsoever to others."
A key element responsible for bolstering the allure of Sanrio is how shared interest in beloved characters amplifies relations that overwhelm any strange stares that may spark from predisposition. Even grown-ups with established families and careers can have the time to enjoy the captivating characters. 
"Like many, I've loved Sanrio all my life," said Amelie Ross, 37, from Los Angeles, CA. "So when I was able to introduce the characters to my daughter when she was old enough, I was beyond happy." 
For Ross, Sanrio became the source of a bond between her and her six-year-old daughter, Kylie. The two collect plushies of their favorite characters, Kuromi and My Melody. Back-to-school shopping for Kylie is also Sanrio-centric as she loves My Melody stationery supplies. 
Cuteness is not the only quality that attracts people to Sanrio. The networks of friendship and familial bonds grow stronger through the shared love for a figure of endearment are what makes the company and its products so unique. As a result, many communities have appeared online, creating an internet subculture focused on Sanrio and other cutesy Japanese brands and items.  
"I want everyone to know that anyone can like Hello Kitty, My Melody, or whatever they like," said Yun. "No one should restrict your love for your favorite things."