A look back on Black Panther's impact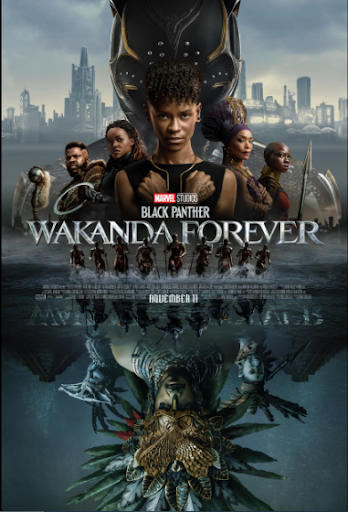 The release of "Black Panther: Wakanda Forever" is a few days away. The sequel to "Black Panther" follows members of King T'Challa's family and Wakanda's special forces, the Dora Milaje, as they begin a new chapter following the death of T'Challa. They must "protect their nation from intervening powers" now more than ever and forge new alliances to do so.
As the new movie approaches its release, it's also important to remember the impact the first "Black Panther" movie had, especially due to its widely-acclaimed portrayal of people of color.
"I thought [the first movie] was wonderful," said senior Teresa Andrews. "It portrayed the black community in a positive light overall. There was no excessive violence going on, use of the n-word, slurs, or gangs. Black Panther was the first Black superhero who was treated as the main character."
"Black Panther" introduced a hypothetical country untouched by the rest of the world. Due to the resources available, the self-sufficient kingdom of Wakanda surpassed the rest of the world technologically. A highly-advanced society, its people defied the oppression which Africans and people of African descent faced and refused to be influenced by Western nations.
The first movie was praised for its unique take on Black people and culture, and the action-packed superhero film successfully showed the true strength people of color have.
"I remember coming out [of the movie theater], and I felt really good. I just thought it did great tying in a lot of cultural aspects," said senior Angel Mulu. "It made it ten times better than just having action and fighting. The culture was really the best part."
In recent years, the film industry has become a crucial outlet for the representation of minorities. One of the roles of film and mass media, in general, is to put forth accurate, positive depictions of people in underrepresented groups that eliminates the negativity associated with them. 
"When you're reaching a target audience, it makes fans more loyal. It brings joy to people [being represented]. It makes them feel good," said Mulu.
Although representation in recent years has continued to improve, it doesn't mean the industry has become equitable overnight. One movie alone cannot have that big, lasting impact when it comes to bringing about social change. The continuation of such film releases and the spreading of awareness through various forms of art over a long period of time are what brought society to this point and what will continue to push society forward.
"The standard is the white population. In general, it's mainly white. It's harder to get representation [because of it]. I think it's definitely changing progressively, but it's not an active shift," said Mulu.
The effects of decades of discrimination and colorism still linger today in film. Minorities are, for the most part, still underrepresented, which is why the conversation to improve this issue continues.
"The majority of films we watch have a lot of caucasian actors as they dominate the industry. Minority characters are usually viewed in a bad light as a villain or some kind of sob story. So, we do need more representation to inspire minority youth to show that they have a chance," said Andrews. 
Whitewashing is one issue in the film industry which continues today despite increased Black representation. Characters with darker skin have their appearances altered on-screen, be it through retouching images or casting lighter-skinned, to conform to Eurocentric beauty standards. The improper depiction of people of color in film has left those who are a part of minority communities frustrated.
"Even in 'The Hate U Give,' originally in the book, Starr [the main character] was a dark-skinned girl, but in the film, she was given a much lighter and 'acceptable' skin tone," said Andrews. "Dark skin tones are just as beautiful and need to be represented as the Black Panther movie did exceptionally."
While progress is a slow and bumpy road, it is slowly coming to fruition. "Black Panther" is a clear sign that things are changing for the better. Now, with the introduction of a black female lead superhero in the sequel, fans hope it will continue to convey what the first movie showed to the world: that minorities shouldn't be underestimated.