Terror over Taylor Swift tickets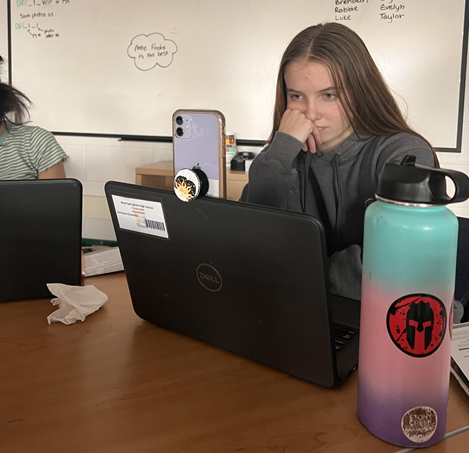 With Taylor Swift's album "Midnights" topping the Billboard Charts, along with her sweeping the recent AMA awards, the battle for seats on Ticketmaster was no surprise.
"We were able to get a presale code for one show, so we were in the presale queue. After three hours, the queue finally stopped saying 2,000+ people, and my parents were able to get tickets two minutes before the Ticketmaster completely shut down the pre-sale for a few hours," said sophomore Mara Blackburn.
For some, the queue crashed, leaving them stuck in limbo. The crash caused much stress among fans and, because of supply and demand, when the amount of people going after tickets goes up, so do the prices.
"My mother had to buy the tickets for me since I was taking my AP U.S. History test when the presale went live. She got frozen in the queue when Ticketmaster crashed. We ended up getting tickets though, but the prices were increased," said junior Ava Hamilton.
The competition over getting tickets could be called a "Great War." Unfortunately, in any war, there are always casualties. In this case, it was lifelong fans who were deprived of seeing their idol live in concert.
"Six hours had passed since the pre-sale, and I had done nothing all day besides sit in my classes and stare at my laptop. When the screen finally loaded and I got into Ticketmaster, absolutely everything was sold out. This was devastating and heartbreaking," said senior EmmaLia Ciccarello.
Due to the cutthroat battle between fans vying for tickets that left many crushed, some opted to not even try to get tickets. These people wanted to save their time rather than spend hours waiting in the ticket queue.
"I didn't try to get tickets because I knew millions of people were going after them already. I also didn't want to take the ticket of someone who knows more of her music or is a bigger fan than me," said sophomore Vanessa Villavicencio.
Swift herself  put out a statement addressing the crisis where she stated that she considers Ticketmaster at fault and was told Ticketmaster would be able to handle the large amount of people vouching for tickets, which they could not. 
Students also hold Ticketmaster accountable for this catastrophe, blaming their monopoly on the ticket industry and the false claim they would be able to handle the ticket rush.
"I put Ticketmaster at fault. They are definitely a monopoly as they even have their own reselling website. People are encouraged to re-sell their tickets at outrageous prices in order to make a profit," said junior Sylvia McCauley. "Ticketmaster does not care about the fans. They care about making a profit."
Ticketmaster released a statement on Twitter, explaining that they had experienced a "historically unprecedented demand with millions showing up to buy tickets."
Going to a concert should be a fun experience, and while getting tickets is always competitive with a popular artist, it shouldn't be because one company dominates the industry and is unable to handle the resulting responsibilities.