"Something Rotten!" leaves audience feeling anything but sour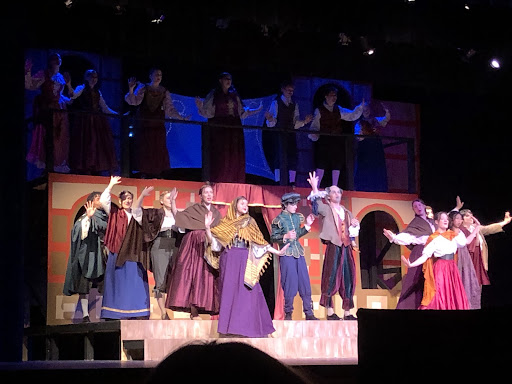 Spartan Theatre's spring musical "Something Rotten!" was a huge success. This story follows hopeful playwright brothers Nick and Nigel Bottom, who compete against Shakespeare to see who will have the biggest hit on the stage.
The opening night for "Something Rotten!" featured a live pit orchestra, bake sales, and witty dialogue. The theater was filled with family, friends, teachers, and others who had seen advertisements out and about. 
The cast's opening number, "Welcome to the Renaissance," set the tone for a night filled with laughter, half a dozen costume changes, and a chance for the actors to especially shine.
Among those actors, junior Nicholas Brunson, who played Nick Bottom, stood out. He was a strong singer who participated in more than half of the musical numbers. Brunson's stage presence was always poised and he carried himself throughout the entire show, confident in his abilities. 
Senior Thomas Seeger was another actor who stood out. Playing Shakespeare, he did not have dialogue until 30 minutes into the show, but once he delivered lines, he entered the stage in leather pants and a sparkling jacket and commanded the audience, receiving a standing ovation during bows.
Senior Lydia Nelson played the role of Bea Bottom, the enthusiastically charming wife of Nick Bottom who yearns to help their family make a living. Nelson had a strong voice throughout the show which she demonstrated when she performed "Right Hand Man," a two and a half-minute solo. 
Seniors Nick Frazier and Madeline Orchard played love interests Nigel Bottom and Portia, the latter being an eccentric Puritan girl. The characters quickly bond over a love of poetry and later share their own writings with one another. Nigel finds confidence through Portia to stand up for what he believes Nick and him should write their first musical about. From their first meeting to the end of the show, Nigel and Portia provided the audience with a couple to root for.
A surprise from the show was sophomore Ben Cozart, who played Shylock, a Jewish moneylender who seeks to assist the Bottom brothers in their multiple projects. He had an engaging and outgoing character on stage, adding wise comedic timing to his energetic acting and stage presence.
"Something Rotten!" was a unique choice for a high school play due to the complexity of the tap numbers throughout the show. There were many grand dance numbers from glamorous ones with white feathers to tap numbers with dancing eggs. The various dancers of the show did an excellent job throughout the entire night staying in sync with each other and the music. The majority of this success in the dances can be credited to actors who were already dancers outside of theatre, along with the many tap rehearsals that the actors had leading up to opening night. 
Shakespeare himself,  Seeger in particular was delighted to have the opportunity to act in the musical.
"Playing Shakespeare [was] so much fun. I [got] to go onstage and be a rock star. I couldn't have asked for a more fun role," said Seeger.
Seeger is a veteran in the Spartan Theatre department, having acted in a variety of musicals and plays that the school has put on in the past. In previous years, he acted as Dr. Gibbs in 'Our Town' and Max Detweiler in 'The Sound of Music'. When asked how he felt about this year's musical, he simply stated: "I love it." 
"It [was] incredibly funny, witty, and a joy to be a part of. Plus, who doesn't love tap-dancing eggs?" said Seeger. 
Along with being a musical, dance was very prominent in the show in the form of several tap numbers. Leading up to opening night, the cast of the show had practiced almost every day since February with the addition of some Saturdays.
"Not everyone [was] called every day, but [it was] all hands on deck since we got back from spring break," said Seeger. 
In addition to all of the hard work that has been put into the show by the actors, others in the theatre department also [worked] hard designing costumes, creating sets, and making sure lighting and sound [was] exemplary in rehearsals. 
"People don't realize how much work gets put into tech. A lot of people see the show and just kind of assume everything just gets put together somehow," said junior AJ Brandt, a sound designer for the musical.
Brandt worked alongside six others on their sound crew, which was a part of the approximately 60 people who worked on the technical part of the show. 
"We've all been working on this production since November, which is three months before the show even got cast," said Brandt. 
The technical side of the play goes far beyond just the sound element.
"Technical work takes months of intricate design, organization, and execution. For costumes and props, there is prototype after prototype before a design is finalized," said Brandt.
Without the hard work of these individuals, the musical would have never been a reality. 
Nelson looked back on playing her role as one of her favorite moments of being in Spartan Theatre.
"I've loved getting to go to rehearsal every day and [acting] with my best friends," said Nelson.
Nelson recounted her time as part of the theatre program, saying she became much more confident.
"Acting in front of large crowds of people helped me to feel confident in both my character that I was playing and myself outside of theatre," said Nelson. 
Nelson recommends the theatre program for both incoming freshmen and anyone else who is interested in joining. "You never know if you are going to find a passion in acting, so I would encourage anyone interested to try it out," said Nelson.
In addition to all the hard work that students put into the musical, they were also busy with preparing for their Advanced Placement (AP) exams. Many seniors also had prom-preparations that included  selecting what they were going to wear, making reservations for dinner or rides, and finalizing groups and dates. The whole department did a superb job balancing both student life and a professional production.
In all, the spring musical was well done. The tech crew made the show run smoothly the entire week, the pit orchestra added sound to all corners and walls of the auditorium, and the actors kept the audience entertained and focused. It was a strong ending to this school year's theatre season.