Cultural clubs unite to host International Night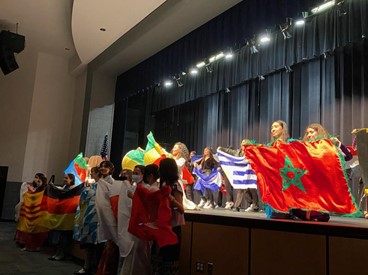 WS's diversity was celebrated in this year's International Night, where cultural clubs, world language classes, and honor societies came together to show traditions from around the world.
"[I love] the atmosphere, the ambience, the vibe. Everybody is excited about showing their culture," said Spanish teacher Mary Emerson, a sponsor of the Hispanic Student Association. "It's a very exciting time for all of us." 
Cultural clubs, including the Hispanic Student Association and the Ethiopian and Eritrean Club, worked together for several weeks preparing to display cultural pieces, perform dances, and showcase traditional clothing in fashion shows.
"We are doing five dances from various tribes and participating in the fashion show," said senior and officer of the Ethiopian and Eritrean Club Bezawit Zike. "It has been a lot to organize it, but it has been a very fun experience overall."
Students and staff demonstrated their resilience in organizing this year's International Night, especially after not having held an in-person event since the beginning of the pandemic.
"I'll never forget the date, the 13th [March 2020], because that was supposed to be our International Night that night. And that Thursday, they made the announcement. We had talked to admin and they were just like, it's best if we just canceled because we don't even know what's going to happen," said Emerson. "And we were all devastated, so we're all really excited that we're actually going to be able to do it in-person."
The World Languages department also held a musical March Madness, where students were able to vote for the best foreign language songs. Through the bracket that took place during World Languages Week (the week before International Night), world language students were able to listen to a variety of music in American Sign Language, French, Spanish, and German.
"We are representing all of us. All of our languages here taught at our school," said Emerson. 
Emerson explained how, for instance, she and her students were able to have conversations about the deaf community through presenting ASL music. 
"It's just a very great way for them to be, you know, introduced to [deaf culture] and kind of understand that there are different varieties even within our own communities," she said.
Today, people around the world face injustices and struggle to prosper in times of horror. In Ethiopia, for instance, an ongoing conflict has claimed thousands of lives and internally displaced millions of people. 
"With everything that's been going on in Ethiopia, I feel like we're just trying to bring together the Ethiopian and Eritrean community and show everyone our culture," said senior Hiwi Mezmur, another officer of the Ethiopian and Eritrean Club.
International Night has become a way to learn about other cultures' traditions and ways of life. Through the event, students are able to push back stereotypes and present the richness of their cultures' history and customs. 
"International night can help everyone get to know other cultures apart from their own," said Zike. "And since various cultural clubs will be participating, it will be a great bonding experience."
In a world where people are also increasingly divided in their beliefs and prejudice persists, International Night aims to unite everyone in the journey towards peace, equality, and justice.
"I hope people can take away that all cultures are beautiful and unique in their own way and deserve to be appreciated," said Mezmur.
The student body's diversity and its willingness to show this existing variety in the school community is demonstrated through the organization of this event.
"[The clubs] do a great job of representing themselves in a very, you know, beautiful, positive way," said Emerson. "There's no animosity with any of our groups. It's all about acceptance and celebrating."