Women of Sparta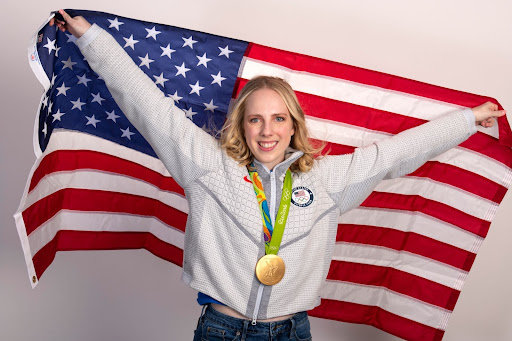 Women alumni open up about their struggles as women in the professional world and the proactive steps students can take to be the most successful versions of themselves.
"As an Olympic Rifle Shooter, I am a female in what is typically considered a 'male-dominated profession.' Even though that's not necessarily true as there are just as many girls in this sport as guys, it does create certain associations and stigmas about what I do," said WS graduate and Olympic gold medalist Ginny Thrasher. "For instance, when people look at a petite, blonde-haired, young girl wearing her country's colors and assume I am a gymnast, they are definitely in for a surprise." 
Thrasher competed on the Olympic Team and won gold for the women's 10-meter air rifle at the 2016 Summer Olympics. She has also won 12 All-American honors and four National Collegiate Athletic Association (NCAA) individual medals. Despite Thrasher's achievements, she still had to overcome adversity, especially from online commentators.
Stereotypes of athletes and professional women are perpetuated all over the internet. Sexist, misogynistic, and trolling comments all blend together, creating a virtual atmosphere that not only discredits women but also disvalues them.
To accompany the online haters, male-dominated industries such as the sports industry have posed challenges for women as they rely heavily on connections and names.  
"As a woman in the sports world, there is a lack of opportunity for jobs and lack of opportunity for advancement," said WS graduate and head coach of Duke's women's basketball team Kara Lawson. "It is still a male-dominant business structure, and it is very difficult to break through that, particularly at the highest levels."
Despite the challenges, Lawson has now become a WS celebrity. She played in the Women's National Basketball Association (WNBA), was an assistant coach for the Boston Celtics in the NBA, won a gold medal in the 2008 Olympics, and coached the US women's 3×3 team to Gold during the 2020 Olympics.  
"The most important thing a young woman can possess is belief in herself and confidence in her ability to achieve great things," said Lawson. "Never lose that and you will have the chance to be successful in your chosen field."
Other women alumni have worked as professionals in diverse fields, with both men and women, but they still had to learn how to advocate for themselves amongst coworkers. 
"I work in a field that has much diversity in its makeup of employees," said WS graduate and bus driver Kate Masterson. "The biggest challenge I've faced as a woman is trying to figure out how to assert myself amongst all peers, male and female. 
Masterson credits some of her success towards communication. She advocates for women to be thoughtful in their speech and use it to help aid their achievements. 
"When you feel the need to communicate something, remember that your message is a gift," said Masterson. "Make sure that your gift is well thought out, planned, and most importantly, well packaged and presented!"
To achieve success, students need a multitude of skills including communication, especially for those considering to participate in challenging industries.
"I think being bold is a skill that can be hard, especially for females, but can only help with success in any profession. Apply for that stretch school, go talk to your crush, be clear and uncompromising in who you are and what you want. It's not easy, but moving boldly forward is how you achieve your goals," said Thrasher. "The worst that can happen is being told no and then having to find a different way, but the best that can happen is getting everything you ever wanted."