WS chess gambit pays off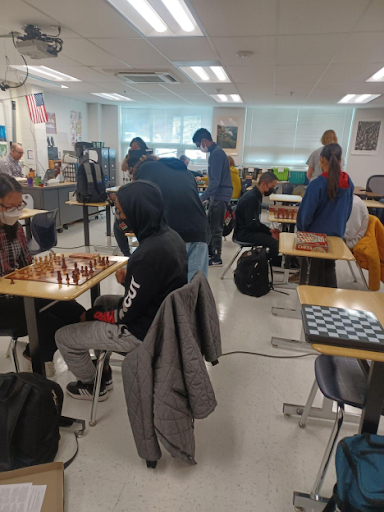 When Netflix came out with the blockbuster miniseries Queen's Gambit in 2020, the game of chess experienced a resurgence in popularity. After years of being considered boring and nerdy, chess was back at the top. As of now, the WS chess club has over thirty members.
"I was thinking about trying to restart the club at the end of last year. I watched the Queen's Gambit and got interested in chess again. I noticed a fair amount of kids playing at Chess.com in class earlier in the year. Chess is a fun game to play for any age level; I play at home with my stepson and my daughters," said WS Chess Club sponsor Craig Brown.
At the same time, WS teacher Ying Smith was interested in sponsoring the Chess Club to support one of her English language learners who is very passionate about chess. After doing some digging, she discovered that there was no chess club and teamed up with Mr. Brown to start one. The chess club was given new life and is currently the most active it's been in years.
"Chess Club used to be sponsored by a math teacher who moved to a different school and the club was defunct for a while and has been given new life. Mr. Brown and I are doing much more than I had initially anticipated. For example, some of our players participate in the Metro Area Chess League tournament and we will be participating in another tournament sponsored by Hayfield Secondary sometime in March/April. Even halfway through third quarter, we still have new students joining the club, so I am glad that word is getting out," Smith.
The Chess Club meets every week on Wednesdays from 3-4 p.m. in room 1240. Students get to play lots of chess while also learning opening and middlegame strategy. The strongest and most enthusiastic players participate in the Metro Area Chess League where they play against chess players from other schools. As of round seven, our team has tied two matches, lost two, and won three. The WS chess club is always happy to accept new members.
"I like the atmosphere of the chess club. It's nice, chill and fun. You can come whenever and play whenever," said sophomore Edward Tomlinson.