Post-grad plans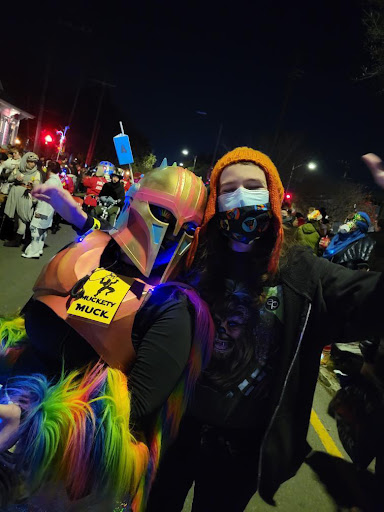 After walking the stage on graduation day, some Spartans intend to participate in post-high school programs, gap years, and other commitments.
Senior Mimi Deliee intends to intern remotely with a Subkrewe of the Krewe de Chewbacchus, a science-fiction-themed Mardi Gras parade, right after graduation. They will start flying down to New Orleans weekly around December of this year.
"Our particular Subkrewe, the Stomptroopers, works with people with sensory issues and provides a safe environment for them to march in, while staying connected to the sheer madness of the parade itself," said Deliee.
Deliee came across this opportunity through their mother who interviewed Kate Loucour, who runs the Subkrewe, for an article. Loucour came to them with this brand-new internship opportunity, making Deliee the first person to work with the Subkrewe in this way.
"The idea behind [being a part of this internship] isn't to build blocks to a career," said Deliee. "It's to add tools to my kit to later use in any career I should choose."
Senior Robert Morrison has a similar philosophy as he is planning to attend The Salisbury School in Connecticut as a postgraduate student. During his time there, he plans to build his transcript by taking more rigorous courses.
"I thought it'd be a very beneficial way to get more acclimated to college life while also building upon my transcript and resumé for when I do apply for college," said Morrison. "In some ways I feel prepared for college but because of missing out on a normal junior year, I think a year to fill in the gaps in a small, three hundred student setting like Salisbury will help me a ton."
Morrison was always aware that a post-grad year was an option because his father also attended a postgraduate school. He solidified his decision to attend Salisbury after completing his junior year online and feeling unprepared for college.
"I am not sure exactly what I want to do after college or even what I want to major in at all, but having these unique opportunities gives me a chance to experiment and see what I like and dislike," said Morrison. "I also plan on participating in more extracurriculars and clubs to make up for the missed opportunities that I had here at WS."
Some seniors feel too burnt out to continue another academic year, so they decide to take a break from all things relating to school.
"Even though my plans are still up in the air, I know that whatever I decide to do will give me a lot of life skills that will set me up well for whatever I plan to do later in life," said senior Olivia Krein. "I'm not sure I would say it's a stepping stone, but more of a way to figure out what I actually want to do with my life."
Krein always knew she would need a break before entering college since she has been so agitated and anxious throughout the past few years. As of right now, her gap year plans are to be determined, but she hopes to travel and spend more time focusing on herself.
College does not always have to be the next step after high school. Some students may feel like going into a post-graduate program would be more suited for them, while some think they need time away from a rigorous academic schedule.
"Take a step back. Reevaluate whether you're truly ready to continue your education, or whether you just want more lived experience before you go to the next level of education," said Deliee. "Once you get accepted, you can always differ. Or you can wait and have an awesome gap year program on your resumé when you apply. Point is, you've got options that range beyond schools."