Back to books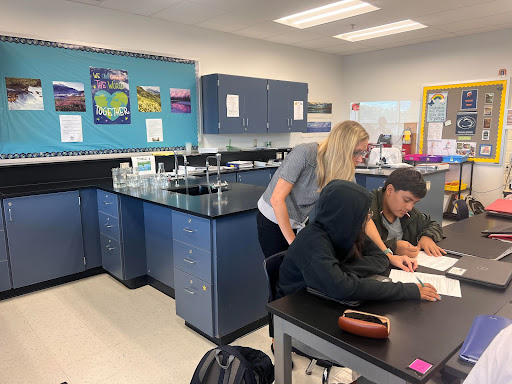 With the start of school, there are options that teachers use to ease the struggle of getting students back into the routine of school after a two month vacation. During the first week of school, two main possibilities are utilized. Those two being icebreakers and getting straight into the work, with most students preferring one over the other. 
"I prefer the ice breakers and fun activities at first, especially the ones that involve movement around the classroom as it is something more fun to start with rather than having a long break and then a large amount of work," said sophomore Jodie Weeks. 
Though, even though some students prefer the start of the school year to be laid back, that is not always the case. Some feel that for the start of the school year, too much work is assigned and can make it more overwhelming. 
"I do think that [my] AP and Honors [teachers assigned] too much work during the first few days of school," said senior Anna Jones.
However, other teachers prefer to have a more relaxed first few days of school as they prefer to allow the kids to start with fun coming off of summer break. 
"I like to start with fun! I like the kids to have some fun, get to know the other kids, and get to know what the class is about. In terms of homework, I only assign the safety contract along with a slide about yourself." said biology teacher Heidi Averette. 
While easing students back in obviously seems like the ideal, in some classes that is not possible.
"Depends on the course and the students. For something like an AP level course there isn't time to waste. The exam is coming and every day matters. In other courses where the time pressure is less of a factor, and students need time to transition to the rigor of the class it makes more sense to ease in a bit slower", said  math teacher, Jordan Moellendick
Overall, the pace of adjusting to a new year depends on what the students opt for. Even though there may be students that feel assignments in the first few days of school are unhelpful, others prefer it.
"In the past, teachers haven't assigned me a huge amount of work in the first week, but I like small assignments for the first few days to get back into the routine of doing larger assignments," said sophomore Zico Lounes. 
Contrast to the other quotes, it seems that some prefer having smaller assignments on the first few days as it allows the students to grow more accustomed to the routine of classes, homework, projects, etc. 
While there are different opinions on how to get back into the school routine, it seems that Spartans are finding their way around again.