Clubs are forming the core of the WS community and culture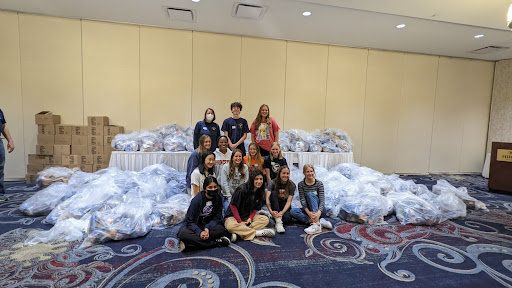 Extracurricular activities are ways for students to explore new hobbies and connect with others who share their interests. WS has a wide variety of clubs that allows students to explore and find something that they enjoy.
"I love being able to give back to the community and know that I am making a difference," said senior Lexi Stein. Stein is the president of the Interact Club, which focuses on servicing the community.
Stein said that taking part in this club allowed her to find her passion for helping people. "Because of [Interact Club], I will continue to volunteer in my community even after I leave WS and the Interact Club."
A portion of the service opportunities that the Interact Club has previously assisted in include writing cards to senior citizens, trash clean ups, special Olympic events, and the annual Adopt-A-Family gift drive during the holidays.
"Others should join because it's a great opportunity to get involved with events in the community, not just the school. We have tons of different kinds or service opportunities, so people can do what they enjoy," Stein said. The Interact Club meets the second Wednesday of every month.
Girl Up is another club that makes an impact in the community. "In Girl Up we have monthly meetings covering different aspects including equality and awareness for underrepresented issues," said vice president Satya Velupla. 
The club's mission is to expand girls' rights, opportunities, and representation. "I would encourage others to join Girl Up because it is a good opportunity to educate yourself on a lot of different issues, especially issues that might not be widely popularized," said Velupla. Girl Up also provides others a platform to bring recognition to subjects that they feel need attention.
In the past Girl Up has written letters to breast cancer patients and partaken in the period project drive.
In addition to service clubs, there is also a  diverse range of cultural clubs. 
 "It's a great way to learn more about our culture and make new friends who can relate to you," said senior Hermela Mogess, a member of the Ethiopian Eritrean Club.
In the club, members partake in trivia games about  Ethiopian and Eritrean culture, socialize, and prepare for international night.
International night takes place every March. A large variety of clubs perform traditional dances and showcase their cultural clothing in the fashion show. 
"International night is really fun and even though sometimes it can be stressful, once you get on the stage you feel a sense of accomplishment with everyone else," said Mogess.
There is a multitude of other clubs offered at WS in addition to the ones already mentioned. A great way to learn more about a club is the annual activity fair. This year in early October, WS plans to bring back the activity fair in person. "Students will be able to visit various tables and learn about the clubs offered at WSHS directly from the students and sponsors who are behind them!" said Jonsson, the Assistant Director of Student Activities.