Questbridge bridges the gap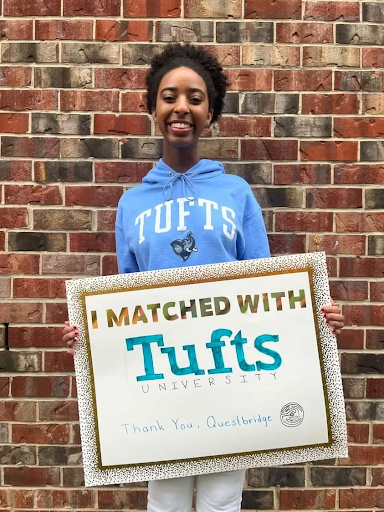 Several Spartans are on the path to higher education after winning Questbridge's annual college scholarship. 
"Applying to Questbridge was definitely stressful and difficult, but so is applying to colleges in general," said senior and Questbridge recipient Kidest Hailu. "I definitely think I felt more stress applying to Questbridge than I would have applying [with] Common App because I knew what was riding on this application." 
Questbridge, a college partnership organization, provides full financial aid to low-income students who receive its annual scholarship. After a rigorous application process, finalists who are accepted into the program get to rank a list of universities of choice and are then "matched" to one by Questbridge. 
Senior Grace Kang, another recipient, also found the process to be strenuous and demanding. 
"There were a lot of deadlines and documents to keep track of, which was pretty stressful. Luckily, I had a close friend who helped me throughout this whole Questbridge process," said Kang. 
Applying and being accepted does not mean automatic admission to a school of choice. A match is only guaranteed if the applicant is accepted by one of their chosen schools. 
"Questbridge is a two-step process, you need to make it past the first round to become a candidate for the scholarship," said Hailu. "Once I made it through the first round, that's when I really felt the nervousness. It all started to feel real, and the weeks that followed revolved around my application." 
The scholarship is designed specifically to help high-achieving, low-income students who might  otherwise have to go into debt in order to receive higher education. Besides providing full-ride scholarships, Questbridge also waives application fees.
"The scholarship took a huge financial burden off of me and my family," said Hailu. "I knew since the beginning of high school that I would depend on a scholarship to get me through college, so getting this scholarship took off a lifetime of worry." 
Hailu was matched to Tufts University and will be attending in the fall. 
"It was a surreal feeling to see I matched [to Tufts] because I ranked it so high on my list," said Hailu. "Tufts is so community-oriented and collaborative. I love how the school has a liberal arts feel but also has good research and STEM departments." 
Kang hasn't matched to a school yet, but is able to still review early admission opportunities for other ranked schools and attend one using Questbridge's financial aid. 
"Although I did not match with a school, I am very fortunate to have even had this opportunity available to me. So far, I would like to believe that this whole application process has helped me prepare for the future," said Kang. "This process has definitely helped me learn about obtaining skills such as time management and organization." 
While this school year's National College Match deadline has already passed, the 2023 application will open in late summer. Applications will be due on September 27 for anyone interested in applying.