The center of inclusivity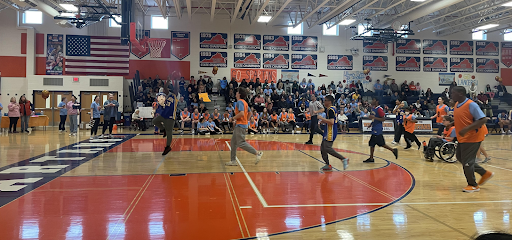 Buddies Club hosts the perfect environment for everyone to be included, especially important at school, where students spend hours of their day. 
"The importance to me was to make sure that everyone in the school felt included and was given the same opportunities I had been given. I think the main thing is to make sure everyone in the building has a place that they can call home," explained Madison McKenna, special education teacher and Buddies Club advisor. 
McKenna is a WS alum and has always loved Buddies Club. She became a teacher after graduation to pursue her passion in special education teaching. 
"Well, being a student at WS and helping with Buddies Club, I actually worked with Tim Spicer who taught history for a while but he was in charge of the program. I fell in love with the students, I fell in love with special education, and WS felt like a great community to come back to. So once I graduated, I applied here, and the rest is history," expressed McKenna. 
Club meetings include many activities in order to improve the skills of the special education students and engage them with their fellow classmates. 
"Our club meetings consist of a lot of social interaction and fostering a lot of our students' communication and social skills, that's kind of the main goal. To have them meet new people, make new friends, learn names. So a typical event includes some kind of group activity and then breaking off sometimes into little groups. There's always music, food, and just friends," continued McKenna.
The Buddies Club holds events for everyone to attend, usually free of charge. 
"We've had corn hole events, we've had Valentine's Day parties. There's something for everyone," details McKenna. 
The most recent event, "Ballin' with Buddies," was held this past weekend. The event consisted of a game between WS and John R. Lewis High School, with food, a raffle, and halftime show. 
"Watching them was just nice to see. You'd see a certain player give another player the ball and they would have an opportunity to shoot, and the whole crowd would just jump and cheer no matter which team scored," said senior Sarah Abood.
The Buddies Club events are a team effort, from both students and teachers, and there is a group of students who tend to help with the club regularly.
"We have a leadership team of around seventeen general education students, they help plan, brainstorm activities, and execute them for us, while myself and the other co-sponsors organize getting any supplies and setting up the rooms," explained McKenna.
The club is always looking for new members.
"If I could talk to everyone in the school individually, I would. We've tried going to classrooms, we try to promote it as much as possible on social media, getting flyers up, and word of mouth. What makes it a large, strong community is that once people come, they either like it or they don't, most people like it and come back, and they tell a friend. Definitely word of mouth among students, no one wants to listen to a teacher, even if I think it's the best thing on the planet," said McKenna. 
Buddies Club shines with inclusivity for all.