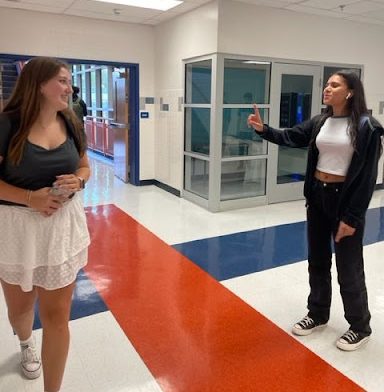 In a world often taken over by criticism and negativity, WS students and faculty are still determining whether the art of complimenting can override the pessimistic nature of the school environment, or contribute to the high school stereotype.
For some, compliments are a huge ego boost, shifting their entire mood.
"I love compliments; they make my entire week and they make me feel appreciated," said junior Addison Mau.
It is noticeable that simple words can influence the receiver's aspirations and motivation for an interchangeable amount of time. A few gracious words or even a smile in the hallway can feel rewarding. To continue this positivity, some students create a cycle, by projecting positivity everywhere they go.
Senior Owen Menzie enjoys the rewarding feeling when receiving and producing compliments.
"[I feel] pretty good, I try to carry on the compliment to other people," said Menzie. By creating a beneficial pattern for both the receiver and giver, giving a compliment can influence others to do the same.
Although for some, compliments are seen in a great deal of light, others struggle to separate negative intentions from positive words.
"It depends on the compliment, sometimes they are not well meant. [They are] not even backhanded, [if you don't] know what you're saying, [you might] compliment someone on something that they may or may not like," said MTSS Administrator John Thorson when asked about his favorite compliment.
Going along with Thorson, senior Elijah Lopez believes compliments can be misinterpreted and disrespected, especially in the male community.
"Men don't compliment men, because, when you compliment a guy, they make it seem weird as if you are attracted to [the] guy," said Lopez.
Lopez shed light on the possible hesitation for men to compliment people of the same gender. By offering his concerns about the skepticism of complimenting in the male community, he highlights the need for men to compliment each other. Supporting the same argument is senior Peyton Evans.
"Men don't compliment each other enough, they compliment women only, and if they compliment each other [more] it would be good for [them]," said Evans.
Compliments can also be misinterpreted online such as through social media posts, comments, or even by communicating with your friends.
"[Ingenuine compliments are given] especially on social media; it's very easy to say nice stuff and not mean any of it," said Menzie.
Many WS representatives believe that Instagram is the main proprietor of this issue.
"Isn't that the whole Instagram generation? It's why people post, they like to get comments, and they like the positive ones. It's all about getting attention, this generation gets a lot of compliments," said Thorson.
Ingenuine compliments can either be perceived as positive or negative, but genuine compliments always seem to have constructive effects.
"I feel like [my compliments] are genuine because I like to pay attention in conversations," said Mau.
Compliment givers seem to enjoy the outcome of their words.
"I think it's important to branch out and make everyone happy," said Menzie.
Overall, compliments are a significant topic for students and teachers at WS. Some believe that compliments make the world go round, while others believe that they can be skewed as "fake" or "ingenuine." It is said that all people should be complimented, no matter their gender because authentic compliments can create a proactive environment for everyone.
"[You should] compliment people, [it] doesn't matter if they are male or female, you compliment people," said Thorson.
Story continues below advertisement