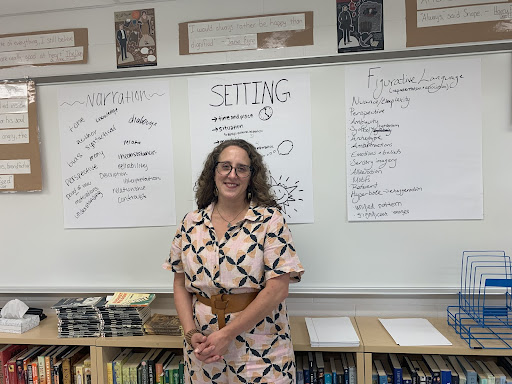 New but far from unfamiliar, English teacher and English Department Chair Katie Newman is settling into her first year teaching at WS. In fact, a part of her teaching journey was inspired by her time as a student here.
"This is my eighth year teaching high school, and the person who inspired me to go into teaching was here. I graduated from West Springfield in 1998. My English teacher in my 11th and 12th grade years was Mrs. Horowitz, and I loved her so much," said Newman.
Currently teaching both English 9 Honors and AP Literature, Newman's path in teaching is not common. Not only has she taught high school, but she has also taught elementary and middle school English, with a brief break in between. This year, however, will be the first time she teaches AP Literature.
"I think teaching new grades has made me a much better teacher. When I'm looking at a ninth grade student who may be struggling with something, you can also connect back to the development of where the student was a couple years ago," said Newman. "I can see where they are on this development trend because oftentimes those struggles, especially at the younger ages, often have to do with maturity level particularly regarding extrinsic versus intrinsic motivation to do things."
With the background she's built throughout the years, Newman finds different joys in teaching two grade levels this year.
"[AP Literature] is a class that I've always wanted to teach, and this has been my first opportunity to do so. I've just really enjoyed it. The kids are really a good group and English 9 Honors is one of my favorites too," said Newman. "It's like you're getting students on their way in and you're getting them on their way out. They're very different places in life, but I love that."
Before going into teaching, Newman studied at the University of Virginia, graduating with a double major in English and History. Through an accelerated program, Newman completed her Master's while finishing up her undergraduate education, earning a Master's in teaching. Shortly after, she began her teaching career.
"I picked elementary school originally to teach because I didn't want to choose between history and English. And so when I was applying for jobs when I moved to the middle school level, I applied for both Social Studies and English positions. I thought the middle school and the English position was a good match. I did something similar when I moved to high school, at that point in time I really liked the English position," said Newman.
Distinct from teaching, Newman faces the additional responsibilities of being the English Department Chair. Newman has taken up this role at a high school prior to WS, and using her past experiences, she plans to collaborate and bring changes to WS.
"We're working right now on aligning our grading. So shifting to year-long rubrics as opposed to product-based rubrics," said Newman. "When you are working on your long rubrics, and you're getting feedback as a student on those, it is significantly more clear what the expectations are and where you are within your progress."
Having clear passions in English, education, and leadership, Newman feels that the various paths and roles she's taken on to reach the current point in her career have strengthened her admiration for teaching.
"I think that there's something inherently rewarding about that type of work that you like; if you find something that is your passion and you pursue it, then it shouldn't feel like work," said Newman.
Story continues below advertisement