Porter vs Styles, Mercury, Bowie…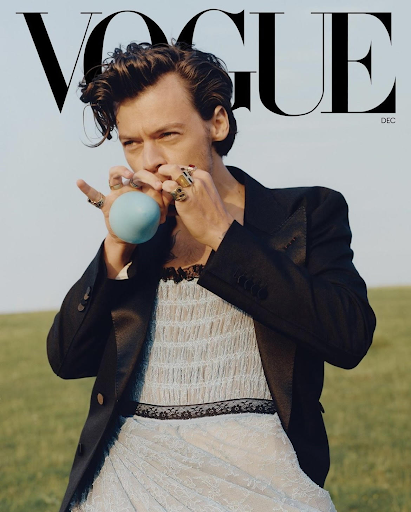 Famed actor Billy Porter confidently claims to be at the top of the food chain for the "trend" of genderless clothing, criticizing singer and actor Harry Styles and leaving other celebrity figures in the dust.
"I don't agree that he was the first one to do it because there were a lot of other artists in the 1900s that did it, but [there] just wasn't a lot of media to be properly represented," said junior Ana Ogliastri. 
Other artists such as Freddie Mercury, Prince, and David Bowie fall into a similar category as Porter, with all four being male artists wearing what some may consider more "feminine" apparel. With this in mind, Porter's claim to be the start of genderless clothing falls short.
"It seems kind of narcissistic to claim non-binary fashion for yourself," said senior DJ Janas. "Although I could see him being a big reason it's been more popular and mainstream in recent years, so I'm kinda split."
After extensive backlash from Styles's fanbase on social media, Porter appeared on "The Late Show with Stephen Colbert" and issued a half-hearted apology to Styles for criticizing the singer for being the first man on the cover of "Vogue" magazine.
"I'm not dragging Harry Styles, but he is the one you're going to try and use to represent this new conversation?" said Porter on "The Late Show" with Stephen Colbert. "He doesn't care; he's just doing it because it's the thing to do. This is politics for me. This is my life. I had to fight my entire life to get to the place where I could wear a dress to the Oscars and not be gunned now. All he has to do is be white and straight."
Sexuality and race seems to play a significant role in Porter's anger, and many argue rightfully so. "Vogue" chose the White assumed straight man over the Black gay man.
"When I read what he was talking about I understood his point of view, a white man being the icon for the LGBT+ movement seems a bit disingenuous, but it's unfair to Harry and [to] others who take comfort and peace from the fact that a big celebrity is doing this in the first place. I think [Billy] could have stated his points more gracefully without demeaning Harry and others," said Janas.
To add another side to the argument, Porter struggles with much more than other celebrities in the spotlight.
"There are other artists that have been put out there that didn't have to fight with all these issues, being a person of color, gay, and having HIV. So I think he mainly wanted to represent all these different communities that have to go through these hardships," said Ogliastri. 
The film and music industries aren't the only places where genderless clothing is taking off. Even Janas himself rocked a simple yet elegant green and white "tropical" dress to October's homecoming festivities, posing beautifully for the camera.
Clothes are an outlet for expression and creativity for many, not a source of anguish for people fighting over meaningless elements, like who paved the way. Fashion should be inspiring togetherness and comradery, creating a bridge between masculinity and femininity. After all, the world is meant to be draped in fabric.