Give the library more thought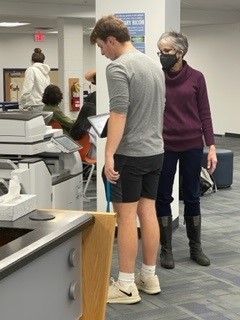 The school library is not being used to its greatest potential, as a combination of minimal encouragement and under-budgeting has led to staffing issues and restrictions on student access to relieve pressure.
"Budgeting, not [COVID-19], is the reason for us being understaffed,"said head librarian Carole Ferch-Jablonski. "We are down one person. We should have an administrative assistant." 
Due to under-budgeting, the library's staff is not at full capacity, creating issues for the students and classes who use the library regularly. Ferch-Jablonski believes understaffing and under-budgeting is a county-wide issue. After reviewing several high schools in the area, including Robinson, Lake Braddock, Hayfield, and South County, each had only one head librarian and one librarian, with the mentioned secondary schools having four librarians divided between middle and high school.  
"The number of librarians is determined by a staffing ratio set by the county and not determined by the local school," said principal Michael Mukai. 
With the amount of students that use the library during the day, during lunch, to wait before and after academy classes, to check out books, and to study in a quiet area, it is vital that more librarians are hired to help better successfully manage the space. The staffing issues also contribute to a growing lack of communication between staff, students, and the librarians.
"Last year, my class was doing a survey that I was opted out of," said junior Garrett Carter. "Technically, I was supposed to leave the room when it happened, so my teacher told me to go to the library. [When I got there,] I was informed that I couldn't enter without a pass. When I went back to class to get a pass, my teacher wouldn't give me one because he thought it wasn't necessary." 
For the librarians, this is the result of miscommunication between themselves and the rest of staff on just how many students are in the library and when students should be allowed to visit. Students are in the library constantly throughout the day, from the moment that first period ends to the end of the day. 
"From teachers, they are unaware of how many students use the library," said Ferch-Leblonski. "They always come in and remark at how busy the library is."
Besides the understaffing, another problem is lack of encouragement by staff for students to go to the library to begin with. While teachers will take some class time and even whole periods to go to the library, students aren't really encouraged to go back. Even then, Spartans are there for a class activity, or to look for books for a specific project, instead of doing something of their preferred choice. 
"[Last year] we went once, maybe twice," said junior Anabelle Volpe. "And even as an avid reader it didn't do much to stir huge interest in the library."
The only way to solve the wider issues libraries in FCPS face is through added hirings. Two librarians per library simply isn't enough. In order to accommodate the unde- budgeting and understaffing, the school district must provide more funds to help their libraries flourish.