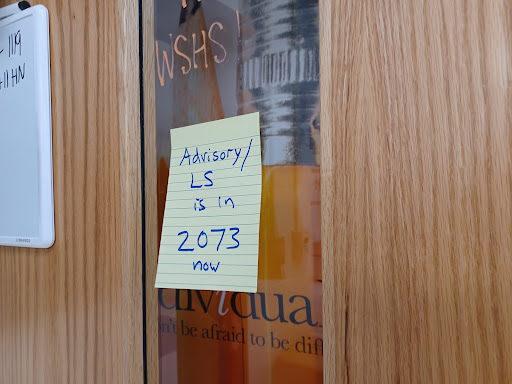 Advisory is the designated time for students to get their homework done, ask for help or take a break from their academics. The shifting of advisory classes this school year, however, has left students feeling disheartened and confused.
In previous school years, advisory classes have remained consistent for all four years of a student's high school career to build strong student-teacher relationships and provide stability. Despite this, the overwhelming number of new students who have come in this school year has drastically changed the student to teacher ratio.
"We had a class of 600 graduate [and] a class of 700 come in," said principal Michael Mukai. "So the teachers that left this group couldn't all pick up this group because there weren't enough teachers for that group. So we had to reshift, we had to reassign the advisories."
Students have taken the issues of teacher shortage and overpopulation in the building into account and understand why the decision was made to a certain extent.
"I think they did genuinely mean that when they said they wanted to have just one advisory class for all four years, but I think a couple of factors went into [the change], like the teacher shortage and a lot of people transferred. It just caused a lot of chaos and now they say that it just kind of means nothing," said junior Cleo Castillo.
Although this decision was made to accommodate all students and make sure every student had an advisory teacher, students of all grades felt that the bonds they had with their advisory teachers were stripped away.
"I feel like last year, I created such a tight bond with my advisory teacher and I feel like our class just worked so well, especially since it was people that I hadn't [been] paired up with or been in a class with before, but I felt like I made some really good friendships and connections, and then once I found out this year that they were taken away and I didn't have the same teacher, it was really upsetting," said sophomore Olivia Lang.
Not only did Lang build new positive relationships and connections in her previous advisory class, but also benefited in regards to her academics as well.
"He was a really good advisor and he was also a teacher for biology and I was in that class last year so he was very helpful. [He] helped us a lot with tests and homework and gave us a lot of good advice," said Lang to describe her previous advisory teacher.
Older students have been affected by this to a great extent as well. With juniors and seniors having the same advisory teacher for two years, it has been quite the adjustment.
"I honestly thought it was very disappointing," said Castillo. "I had really liked my old advisory teacher. She was very kind and I had gotten used to her. I had her for freshman and sophomore year, so I was expecting consistency."
For many students, advisory teachers don't only serve as advisors, but can also serve as a trusted adult and a familiar face.
"I think it matters to have a consistent presence. [Maybe] you'll have [a teacher] one year, and the next year you'll have a different one. I think that's fine, you're adjusting and learning new perspectives, but I think for advisory, you should always have a consistent presence that you can go to that knows you and has known you for many years," said Castillo. "I think it's easier for students to come to those teachers for their concerns. It's a lot easier for them to do that than to go to another teacher that doesn't know them as well."
Students who were told they were staying with their advisory teachers all four years were disappointed to find out that was not the case after all.
"I feel like everyone was told that 'this is your advisory teacher, you will have them for all four years.' I felt like they kind of promised something they couldn't keep and it was kind of a shock. I feel like they [misled] us and threw us a curveball for sure, because I had just had in my mind that this was the class I will come to every single year every other day, and I looked forward to that," explained Lang.
Story continues below advertisement