Senior artists flaunt their skills at the Senior Art Show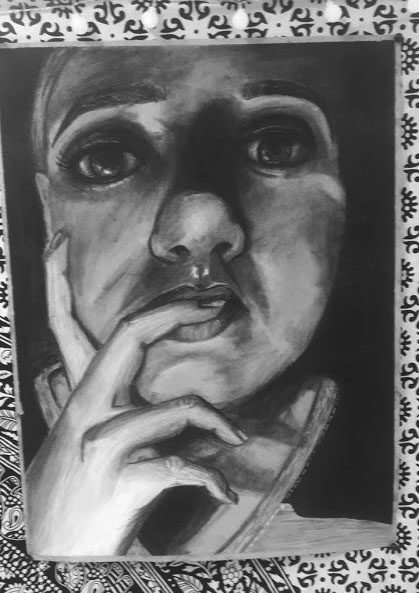 Sophie Shidlovsky, Oracle Staff Writer
May 31, 2017
Hang on for a minute...we're trying to find some more stories you might like.
Every year, WS senior artists and photographers exhibit their best works at the Senior Art Show. Pieces range from landscapes, intricate portraits, to vibrant snap shots of nature, all representing the inner expression of the Senior Spartan artists.
Everyone's interpretation of art is different, as there are many unique concepts throughout the exhibit. Senior Jessica Huntsinger's unforgettable large black and white portraits of herself and her peers are breathtaking and appear to look like a regular selfie with a black and white filter. Another artist whose theme seemed to be darker is Sophia Cronin. Cronin used dull colored chalk pastels to create eerie and creepy tone to her pieces that featured a wooded area with a box full of skulls in the middle of the piece. Though Cronin's pieces seem gloomy, they are contrasted with smaller, vibrant water color pieces of leaves and a city with a beautiful blue sky.
When it comes to vibrancy, one artist that really uses an array of colors in her works is Alyssa Druitt. Druitt used bright pinks, yellows, blues and greens to create her abstract pieces. The use of color in each of her pieces makes each one unique from the other.
Lauren Bureau and Catherine Kiser capture the more pastoral scene of art. Budreau's main piece is a landscape of the Alps, a picture she was able to recreate after her summer trip to Germany. Her vibrant greens and detained mountains are impeccable and really express her artistic ability to make a painting come to life. I feel as if someone could simply just walk into the painting and you'll be in the rolling hills of Germany.
Kiser gives a different turn on 'pastoral' her collection, "Standing with the Omo" gives the bohemian vibe. A common technique used by Spartan Artists was stippling, which consists of creating art with quick, staccato dots of a pen or pencil, rather than using long strokes of paint.
Many overlook photography as an art, but many Spartan artists can prove those critics wrong.  Photography can be expressed and demonstrated in various filters, edits and lens. Katie Snook and Megan McEvoy's art captured the more simple things in life which made their photos simply perfect. Seniors Natalie Tobin and Joe Gumpf captured the beauty of nature through beautiful landscape shots with some magnificent sun sets.  Two photographers work that really stood out were the work of Hattie Brinson and Nick Chastain. Brinson captured images of peaceful animals and pastoral views. My favorite photo she presented was a beautiful photo of a little girl blowing bubbles a bluebonnet field. Chestain captured exquisite wildlife of The Galapagos Islands Chastain's work was flawless and looked as if it came straight out of a National Geographic Magazine.
The senior artists have demonstrated impeccable photography and art skills and should be proud of their accomplishments and celebrate their careers as Spartan artists.