Searching for Springfield's best sushi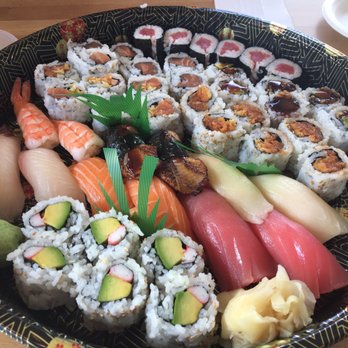 There are so many restaurants within the Springfield area, yet most of us probably eat at more popular restaurants rather than small, more unknown restaurants.
A majority of us probably continuously go to the same restaurants over and over because we are familiar with what they serve and what we like. Consequently there are hundreds of small restaurants that are highly underrated even though they have amazing food.
Rawr Sushi is one of those places–it's tucked away in the corner of Springfield Plaza with very little publicity. I have been going there for several years now, and every time I go there, I'm never disappointed. The quality of the food and service is very good, and they have amazing prices for the quantity of food they serve. Whenever I eat there I feel as if I'm actually in a sushi restaurant in Japan.
Rawr Sushi offers a large variety of sushi and ramen. They offer larger servings compared to other, more expensive restaurants in the area. Maki sushi (the normal type)  prices start at $4.50 and include a free Miso soup and a drink when you order two rolls during lunch time. The ramen starts at $8.50. If you want to host a party with sushi as the meal, they also offer a platter with 48 pieces of sushi for $40. From my personal experience, it is some of the best food I have ever had. My personal favorite there is the Spicy Crunchy Salmon Roll, and the Philadelphia Roll along with the side salad and miso soup. I order the same meal every time yet i never get tired of it. I enjoy the Spicy Crunchy Salmon Roll because it is slightly spicy but not to the extent it makes you want to drink water after every bite. The Philadelphia roll has a piece of cream cheese, which in my opinion, is one of the best things you could put in a roll. Rawr Sushi also makes their rolls much larger than other restaurants, such as Wasabi at Tysons or Taiko Sushi. Not only is the food amazing, but the service too.
The restaurant is owned by a family, and they become familiar with most of their customers, as most of the people who go there are regulars. Every time I visit the restaurant, they always greet me kindly, and they remember me as well. (They sometimes strike up small conversations with me when I visit.) I find the ambiance of the restaurant very pleasant. It has a small interior which feels very comfy while having a more modern theme. My only complaint about the restaurant is that they're closed on Sunday. Sometimes I crave sushi but then I remember it's Sunday and I can't go eat at my favorite sushi place. Overall, you should definitely visit this restaurant, as 140 people rate this restaurant 4.6 or 5 stars.