Is "Isn't It Romantic", romantic?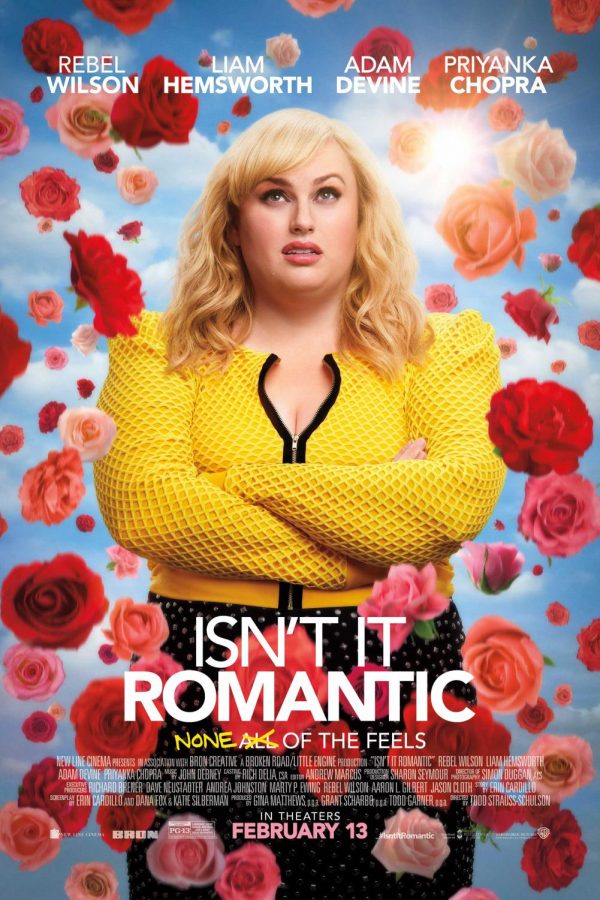 Ana Golden, Scoop Editor
March 29, 2019
Everyone knows how rom-coms typically begin and end. There's a big romantic gesture, a fight, and the guy always gets the girl. The rom-com Isn't It Romantic starring Rebel Wilson is a perfect combination of hilarious and heartwarming. It's a rom-com poking fun at other rom-coms, and it made me laugh, cringe, and tear up.  
Personally, I'm a huge fan of Rebel Wilson. Many people fell in love with her incredibly funny role as Fat Amy in the trilogy Pitch Perfect. However, my initial concern was that this would be a cheesy, typical rom-com, which I am not a fan of. Many of them end the same way, so my expectations were the same for this movie. But all it took was the humorous opening scene for me to realize that this was not going to be a basic, overdone rom-com.
As I mentioned before, I am not a fan of super cheesy rom-coms. Neither were the makers of this movie. It quickly develops into one, but rather than Rebel being flattered by the handsome men fawning for her and thrilled by a brand new luxurious apartment, she acts as any normal person would: uncomfortable and really confused. It was a very funny twist.
The cast was also amazing. Priyanka Chopra, Liam Hemsworth, and her previous co-star from Pitch Perfect Adam DeVine all added to and complemented Rebel's hilarious acting. Since I am a huge fan of all of these actors separately, it was incredible to see them come together.  
My favorite part of the movie is the message that it sends at the very end. Throughout the entire film, the viewer believes that this rom-com will end like every other one, but instead it ends with a twist. I highly recommend watching this movie even if you are not a big fan of rom-coms, because it was truly touching.