"Rust" incident shows importance of safety on set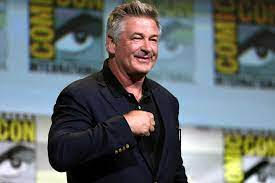 The recent shooting incident on the set of the movie "Rust" has sparked concerns about safety on film and theatre sets.
Actor Alec Baldwin, the movie's lead and one of its producers, fired what was meant to be a "cold gun," meaning the gun was safe and had no live ammunition. Unbeknownst to Baldwin and the crew, there was a live round in the gun, which upon being fired, ended up injuring two crew members and killing director of photography, Halyna Hutchins. 
"I think it's just horrible because Alec Baldwin kind of depended on the safety," said junior Peyton Eisenach. "And he took someone's life, and that's really gonna be on his conscience for the rest of his life."
Prop guns used on movie sets are typically designed to be loaded with blanks. Even if these guns don't have real bullets in them, they are still considered to be real guns and are dangerous if fired at a close range.
"There have been cases where people have been killed by blanks that got stuck in the chamber and then ejected in a dangerous way," explained theater teacher Maeve Nash. "Prop guns look real enough. There's no reason for there to be real weapons on a set in theatre or film, ever."
On a typical film set, safety meetings are held prior to handling a gun on set. The only people allowed to touch a prop gun are the armorer, who handles any prop weapons, and the actor in the take. The armorer is responsible for ensuring the safety of the gun by inspecting it each time it's handed to a different person. For the majority of takes involving weapons, a gun isn't loaded with any ammunition unless the camera needs to capture a gunshot. 
In the case of the "Rust" incident, a live round was placed into the prop gun. Without any safety measures ensuring the gun was cold, tragedy ultimately took place. A lawyer for armorer Hannah Gutierrez-Reed claimed whoever placed the bullet had the motive of sabotaging the production.
A main goal of movies is to make scenes as authentic as possible. Props assist an actor in conveying real reactions to how they interact with them, adding to the quality of acting. In contrast, the use of CGI doesn't allow for this effect. CGI is also more expensive than props, resulting in the need for practical effects to fit a production's budget. Despite this, Nash believes that CGI should be used more to reduce risk. 
"I absolutely think that the post-production technology is good enough that there's no reason to [do a firing effect] practically," Nash said.
Cooperation among the many members of a production also plays a role in the safety of a set. 
"I think it also comes to, like, trust with actors and everyone that handles special effects," said Eisenach. "Like, they can just use them instead of using the guns because they're actors. That's what they're used for."
Spartan theatre has many protocols and requirements put in place to ensure the safety of all the students. Students participating in the school's theater productions have to go through several steps before even having the chance to touch props.
"Our [technical theatre students] are required to pass a bunch of safety assessments before they're allowed to do anything. Permission slips go home to parents, and we take every safety precaution that we possibly can," said Nash. "When it comes to prop weapons, the procedure is that I get them out of a locked cabinet and hand them to the stage manager, who then puts them on the table. The only person permitted to touch them is the actor. And then at the end of the show, the stage manager gives it to me to put back in the locked cabinet."
In the end, technical theater is complex and has inherent risks to it. Several measures need to be taken not only to ensure the quality of the final product but also the safety of everyone involved in a film or play's production.
"It requires a lot of communication between all of the different departments, which is why it's so important that everyone is on the same page, as they were not in that production, in 'Rust,'" said Nash.