Will Smith packs a "punch" at the Oscars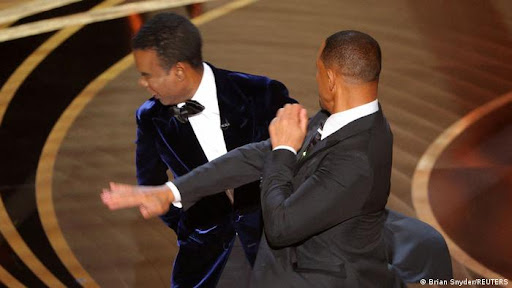 This year's Oscars were exciting for various reasons, but the greatest topic for discussion was Will Smith slapping Chris Rock on stage. Students happened to react quite differently to the matter.
"[The joke] was really inappropriate, especially if you look more into what it is exactly about," expressed freshman Katelyn Hurley.
Will Smith slapped Chris Rock on stage after he joked about the appearance of his wife Jada Pinkett Smith, who has alopecia. This disease can result in hair loss. While Hurley can understand Smith's thoughts behind his actions, senior Divya Gupta had a different viewpoint on the matter.
"No adult in their right mind should ever think a joke should be met [with] assault. I'm even more worried by people thinking it's an acceptable reaction. People are saying it's 'just a slap,' but with that logic, it was also just a joke. If that slap was so insignificant, it wouldn't be on CNN," said Gupta.
While some have strong opinions on Smith's and Rock's actions, others think the public fiasco was scripted.
"Honestly, my opinion on the [matter] is that I think it was played up a bit. You know, [Smith is] an actor, So he probably didn't really mean that whole blowout thing. This was planned out for television," said sophomore Alexander Shmargal-Ellison.
As the Academy investigates the matter, others are left wondering whether Smith's actions are justifiable.
"The bottom line is that [Smith] was not the only person there and he ruined what should have been a revolutionary night for deaf communities and Hispanic communities. [He also] set an example for what the United States thinks is acceptable for the whole world," said Gupta.
In contrast, Hurley is still deciding whether or not the action made after the joke is morally acceptable.
"[To be honest, I'm] kind of figuring out for myself whether or not it was appropriate," said Hurley.
Despite this incident, many exciting events happened at the 2022 Oscars, like "Dune" winning the categories of best sound and cinematography, and "CODA" breaking barriers as best picture and the first deaf, best supporting actor.
Following the slap, Smith was asked to leave the venue, which he refused to do. An ongoing investigation by the Los Angeles Police Department is expected to reveal more details. Additionally, the Academy, which may revoke his award, is investigating the matter.