Popeyes' chicken sandwich: America's great debate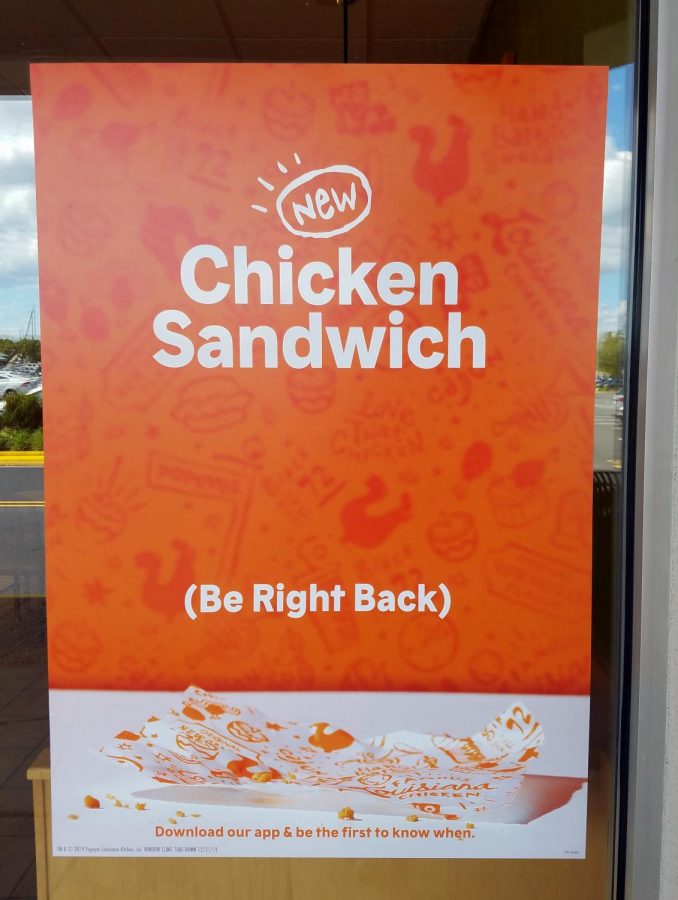 Corbin Lathrop, Sports Editor
October 7, 2019
The story of Popeyes' chicken sandwich first began in early August when Popeyes entered a business agreement with Sweet Dixie Kitchen, a California based Southern comfort food daytime restaurant. As reported by eater.com, Sweet Dixie Chicken first came to fame two years ago when they were busted for reheating Popeyes' chicken tenders and selling them in their own chicken and waffles combo. However, in early August, the small restaurant was able to reinvent their image by being the first to sell Popeyes' brand spankin' new chicken sandwich.
The sandwich quickly burst onto the scene, receiving lots of positive reviews on social media. However, the rage truly began after rival fast food company, Chick-fil-a tweeted that they owned the Popeyes sandwich. This launched a heated debate on social media, with Popeyes and Chick-fil-a backers alike ready to engage in fisticuffs. Soon, millions of people were flocking to their nearest Louisiana kitchen to get their hands on the coveted combination of breaded chicken filet, pickles, and mayonnaise on a toasted brioche bun. But, as lines gush out the front doors of Popeyes across the nation, and store after store sells out of the coveted delicacy, many are wondering… is Popeyes' new chicken sandwich really that good?
"When I decided to try the sandwich I didn't know what to expect, and after my first time trying it I still didn't know how I felt about it. But my second experience with this glorious beast of a sandwich was like no other. It was 100% worth the wait and hype around it," junior Tre Jones said.
Contrarily, others are not so fond of the sandwich; although, this might stem from the overall frustration of fighting for parking, battling crowds, and waiting in outrageous lines.
"Although I would eat the sandwich again, I do not believe it lived up to the hype around it. The chicken is alright and the bread isn't very good; I don't think it's worth waiting in line for 30 minutes to get. Personally, I will still choose Chick-fil-A over Popeyes," said junior Austin Ohlmeyer.
Whether the sandwich truly is the divine creation that some claim it to be or not, Popeyes certainly is raking in the cash from their latest menu item. The chain sold nearly 1,000 sandwiches per day after its August 12 release and is now completely sold out nationwide. Popeyes hopes to have the sandwich back on the menu shortly; however, an exact return date has not been given as of now.