The Oracle's second annual bake-off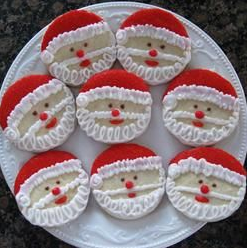 As the holiday season is officially underway, the Oracle staff decided to do something festive to put everyone in the holiday spirit. Just like last year, we decided to go on Pinterest to find a photo to attempt to replicate.
The bakers competing in this yea's competition are three seniors; Amirah Sumrean, Daniel Nam, and Zach Thompson. They will be competiting for bragging rights and showing off.
Same rules apply as last year. Everyone who participated could take this cookie in whatever way that they desire. Whether it is buying store-bought cookie dough or starting from scratch, there are no limits.
This bake-off is the best way for those to show-off their creativity and they own unique twist on Christmas styled cookies.
We chose to decorate Santa Claus, everyone's favorite mythical figure. The cookie highlights Santa's puffy beard and bright red hat which are crucial for any Santa decoration. The frosting can also be store-bought or made from scratch.
We hope to make this an annual tradition in the Oracle where we can all try to show-off our skills and test our abilities against one another.
Everyone loves a little competition and what better way than to create a little holiday bake-off between your family and friends.
Zach's Cookies
Making these cookies was… surprisingly easy. Looking at the picture, I knew for certain these were cutout cookies. I decided to go with some simple sugar cookies. That is the hard part of the planning process out of the way, because the icing is, well, icing. I will be the first to admit I'm not a baker. I cook the meal, rather than bake desserts. I will also be the first to admit I have not been on this earth long enough to have a mysterious note card recipe, inherited from who knows, for sugar cookies. I travelled to my favorite food publication to find a recipe, and I found the "Ultimate Sugar Cookies," recipe by Bon Appetit (I get most of my recipes from them). The recipe was easy, and I'll definitely be using it again because it was just that good.
My father is the resident baker at my home, so I borrowed some of his equipment for the recipe. His stand mixer was a huge help, saving me lots of time and effort. My father always makes the cookies that collapse from their original dough ball shape, leaving him no need for a rolling pin. To flatten the dough, after chilling it in the fridge for a few hours, I was left to MacGyver my way to the finish line. My weapon of choice: a soy sauce bottle wrapped in parchment paper. It worked surprisingly well, and the cookies turned out amazing. The perfect combination of sweetness, shortbread-like texture, and slightly salty finish. Seeing as I am not the most artistic person ever, I enlisted the help of others for decorating the cookies. Call me lazy, but I was not up to the challenge of making 3 different colors and textures of icing from scratch. I purchased the tubes of icing that come with tips for all kinds of different textures. The cookies were a big hit, (especially with my stomach), and I'll definitely be making them again.
Amirah's Cookies
Upon first glance these cookies seem pretty simple. A sugar or shortbread cookie with a white, red, and black frosting design of Santa. Easy enough, right? Wrong.
It already got off to a bad start as they were out of regular cookie dough at the store and I was forced to get the log dough that I had to scour for in the back of the fridge. I then went to the frosting aisle which had way too many options and made it hard to decide. Did I want the canned frosting, the one in the pouch, the squeeze bottle maybe?
As I put my first batch of sugar cookie dough in a pan I decided to make the dough into large balls in order to have bigger cookies to decorate on. After 13 minutes I took my cookies out, and it was a mess. All my cookies baked into each other and were falling off the pan.
As I tried to salvage these half burnt half undercooked cookies I finally gave up and went to another store for more cookie dough. While I was there I bought yet more frosting because I still wasn't sure which frosting was the best for cookies.
After baking the prepackaged and pre-formed cookies from the store, they came out in a pretty perfect shape. Now it was time for the hard part, frosting them. I thought it was going to be an easy task as Santa isn't a very complex design, but I was wrong.
All the types of frosting I bought were just simply unworkable. They were either too thick or too runny, not the right consistency for creating the swirled design. My first couple cookies were horrible to say the least, the frosting melted into each other creating a red, white, and black mess. After warming up the frosting and using a toothpick to create thinner strokes, it finally looked slightly like the picture, or as good as I could get it.
All in all this experience proved one thing, I am terrible at baking. If I am not following a recipe, then I can't do it. This challenge may have been easier if there were directions on how to make the design or a list of which frostings to get. But nonetheless this was a fun experience and maybe I'll start trying to bake things that aren't store bought for once.
Daniel's Cookies
I started these cookies pretty late, a week after my story was supposed to be due, but that didn't stop me from making the best cookies out of the bunch. I started off with using some classic ingredients: flour, eggs, butter, baking powder, and vanilla extract.
Thankfully I had most of these ingredients at home, so I went to my local Giant to pick up some frosting to decorate my cookies since I was on a time crunch.
Once I got back home, I mixed all my dry ingredients together. 5 cups of flour, 2 tsps of baking powder, and 1 tsp of salt. In my other bowl, I mixed the melted butter, eggs, and vanilla extract. I would whisk the wet ingredients as I slowly mixed all the ingredients together. I forgot how hard it was to whisk by hand, so I decided to take the dough out and knead it together. After a grueling 10 minutes of pounding the dough, It was finally ready to go into my oven. I cooked the cookies at 350 degrees fahrenheit and for 12 minutes. After using the classic toothpick method, I decided the cookies were ready and left them to cool for 30 minutes. Afterwards, it was time to decorate. I invited my mom, younger brother, and friend to help me decorate.
I already knew I was going to lose the competition for the best cookie, but I still tried to make it presentable. Turns out I cut the hole of the white frosting too big and it made my cookie look like an absolute disaster.
The other three cookies actually turned out pretty well, mainly because I wasn't in charge of decorating. But the cookies were still delicious and had a great mixture of sweet and salty. Whether you are with friends or family, a friendly baking competition is a great way to spend time together and have fun at the same time.