From CHA Tea Truck to CHA Tea House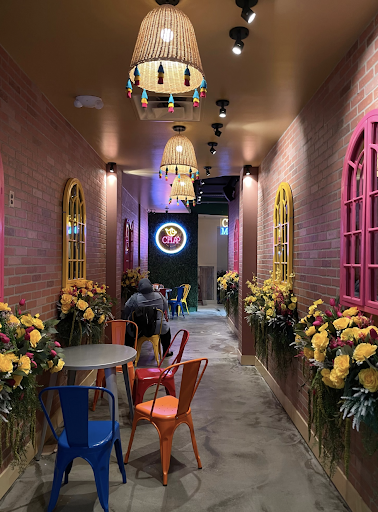 From its inception as a food truck behind Springfield Mall, CHA Tea House has cultivated Pakistan's rich, vibrant culture through fresh food and warm cha, which is tea. The restaurant continues to evolve and recently established a location in Tysons Corner Center.
The idea for the restaurant began with the lack of nightlife options for American Muslims to enjoy. The concept resembles 18th-century Turkish coffeehouses when Muslims faced the same issue of shortages for social gathering locations amid alcohol-filled taverns.
"We wanted to create an environment that mimicked the bar scene, but with tea [and] wholesome fun that everyone could enjoy late into the evening," explained co-founder Sofhia Qamar.  
The food is a traditional homage to existing Pakistani foods and flavors with a somewhat modern twist. The most popular item is the Zinger Burger, which is a crispy chicken sandwich and staple street food with a slightly spicy kick. Sides such as chaat papri (a crunchy mix of chickpeas, potatoes, and spices topped with mint chutney and crispy chips) offer a satisfying snack to pair with their signature cha.
"Of course, our cha is a must-try," said Qamar. "We serve two kinds, Doodh Patti Chai (milk tea) and Kashmiri Chai (pink tea) which is topped with pistachio and almonds."
Besides cooking delectable food, the company also dabbles in providing platforms to local South Asian musicians. This occurs through CHA Studio, which hosts live musical performances and open mic nights at their locations. Many of their singers are outreached through social media and local universities. Some are even occasionally scouted from crowds.
The company is also dedicated to being an active member of the community by giving back positivity. They donate 10% of their proceeds to various organizations and charities in the name of bettering the society in which they and their customers live.
"We are strongly committed to the Down Syndrome Association of Karachi. My daughter is eight and has Down Syndrome, so this community is near and dear to my heart," expressed Qamar. 
They are also devoted to the Down Syndrome Association of Northern Virginia and the Central Virginia Food Bank. 
CHA Tea House has garnered unexpected success in the face of the pandemic and its difficulties towards the restaurant industry. 
"The pandemic, ironically, helped us in the beginning. [Our foodtruck] was the perfect venue during a time when people wanted to go out but didn't want to be enclosed in a brick-and-mortar restaurant. The first few weeks, our lines never ended, and we served thousands of customers," said Qamar.
Since then, their accomplishments have only grown with the opening of their Tysons location. The restaurant is now a physical store featuring gorgeous interior design and a warm atmosphere. Even with the niche South Asian oriented market, customers from diverse backgrounds can enjoy CHA Tea House. 
"At the moment, we are taking things day by day," said Qamar. "We [look] forward to serving not only Pakistani food but educating customers on Pakistani culture!"